Mirandola-Bologna Cycle Path
A 46 km route between villages, canals and old abandoned stations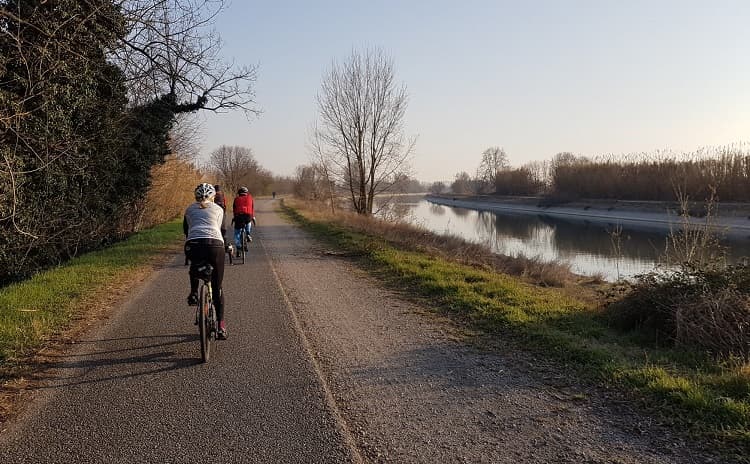 The Mirandola-Bologna Cycle Path is a 46-kilometer foot and cycle path connecting Mirandola, in the province of Modena, to Bologna,
The peculiarity is that 32 kilometers have been built along the former Verona-Bologna railway line.
The route of the Mirandola-Bologna section is easy and safe, equipped with horizontal signs and immersed in the countryside of the Po valley, between villages, fields, canals and old abandoned stations. The itinerary starts from the Lombard border in Tramuschio, passes through Mirandola, San Felice sul Panaro, Camposanto (in the province of Modena), until reaching the center of Bologna.
Curiosity
The Mirandola-Sala section is part of the Ciclovia del Sole (Sun Cycle Route), 686 km long, connecting Verona to Florence and involves 4 regions (Veneto, Lombardy, Emilia-Romagna, Tuscany), 2 metropolitan cities (Bologna, Florence), 5 provinces (Mantua , Modena, Prato, Pistoia, Verona) and 73 municipalities.
The Ciclovia del Sole is part of Eurovelo 7, the 7,409 km long cycling network running from the North Cape in Norway to Malta, crossing Norway, Finland, Sweden, Denmark, Germany, the Czech Republic, Austria and Italy.
Photos from the Facebook page of the Ciclovia del Sole
Still feeling like cycling?
Discover a selection of cycle paths and bicycle tracks in Italy>>>
And if after the journey you feel hungry, why not try traditional wines and food from Emilia Romagna? Click here>>>
More Information >>>