Volpina Wild Pear and Seasoned Cheese Fair – Brisighella
13 November 2022. Many food stands, music and typical products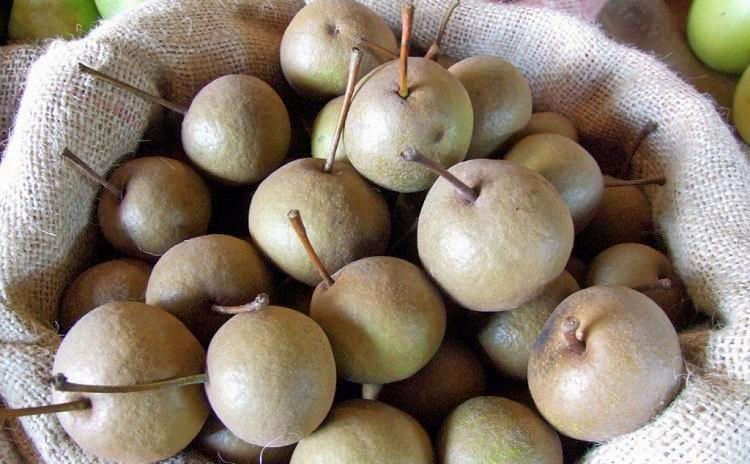 On November 13th 2022 comes back to Brisighella, a medieval village on the hills in the area of Ravenna, the "Volpina" Pear and the Seasoned Cheese Fair, a joyful event with food stands, music and stands of typical local products.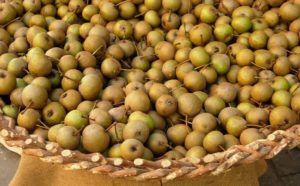 What is the Volpina wild pear?
The Volpina (fox) wild pear, is small, round and a typical fruit of Lamone Valley. It is an ancient fruit, which has always been present in the Italian peasant tradition.
The tree origin is unknown, but in the past it was quite spread in Romagna and Umbria. The growth is spontaneous, and gives a fruit of small size, (80-100 grams), with rough rusty skin, light green bottom and medium thickness. The pulp is greenish-white, grainy and firm. The fruit is low in calories but high in vitamins.
The Volpina wild pear is a Slow Food Ark of Taste (*) product.
Curiosity
In the past the Volpina pear was an important source of sustenance for the mountain populations; even the foxes were crazy about it, hence the pear has been called Fox pear. It is often found in the central and northern Apennines.
Ways to eat
The Volpina wild pear can be eaten raw only after maturation, that is in autumn, and ripening needs to be continued by putting the pear in straw or letting it dry in the sun.
In most cases, the pear is cooked – with the skin – in water or in Sangiovese wine (typical of the area) or in any case in a good red wine.
Sugar, cinnamon, a few bay leaves, a pinch of coarse salt, and cloves are added to enhance the taste and aroma.
Many people like to combine it with chestnuts.
It can also be made, but more rarely, into jam.
At the Fair there are also…
In addition to the wild pear, at the fair it is possible to find other quite rare typical products such as the local potato known as Torre Cavina white potato, the black bean and the typical pecorino cheese, to be eaten according to the ancient traditions. One of the most common tradition is a tanning with fern and walnut leaves to make it more appetizing.
INFORMATION
Brisighella Historical Center
Tel. +39 0546/81166 – or send an email>>>
See also the Facebook page of the event>>>
Photos from the photo archive of Brisighella Facebook page
(*) Ark of Taste products
The Ark of Taste is an initiative of Slow Food Foundation which aims to protect and safeguard foods belonging to the human culture, history and traditions, whose extinction is endangered, repressed by the global erosion of biodiversity.The Ark of Taste products can be reported by anyone and in Italy there are already more than 650
Do you want to discover further products protected by Slow Food in Emilia Romagna? Click the link>>>
More Information >>>