Blacksmith Art and Cutlery Museum – Maniago
Open all year long. The story of cutlery and knife makers in the city of the knife.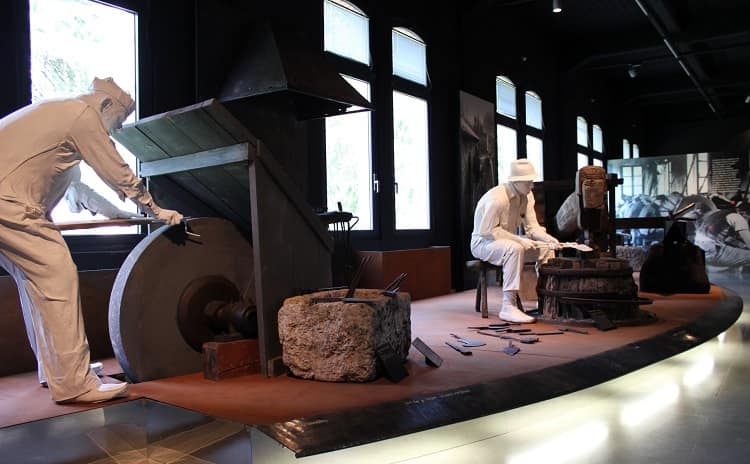 The Blacksmith Art and Cutlery Museum is located in Friuli, in Maniago, in the former industrial Plant of Co.Ri.Ca.Ma. (United knives' factories of Caslino and Maniago).
Since the fifteenth century Maniago was known for craftmanships and artisan cutlery, and when the factory opened in 1907 it employed hundreds of people until it closed in 1972.
In 2009 the municipality of Maniago bought and renovated the building that has become the Blacksmith Art and Cutlery Museum and tells the story and the local and industrial blacksmith production of cutting objects through images, tools, environments and faces of knife makers.
The museum is on two floors and the exhibition is divided into 7 sections, starting from the first iron bars up to industry and modern metalworking techniques for the creation of cutting tools.

USEFUL INFORMATION
Opening hours:
– Monday to Sunday from 10am to 1pm and in the afternoon from 2.30 pm to 5.30pm
– Tuesday and Wednesday from 10am to 1pm
– closed on 24th, 25th, 26th and 31st December and 1st January
Check on the website>>>
Admission with a fee>>>
It is recommended to wear a safety mask and to keep an interpersonal distance of at least 1 meter.
For information and reservations please call +39 0427 709063 or send an email>>>

AND AFTER THE VISIT?
See further events or places to visit>>>
And why not taste the traditional food of Friuli Venezia Giulia>>>
CURIOUS MUSEUMS
In Italy there are many curious or theme museums: the Scarecrow House, the Chimney Sweep Museum, or the Museum of Painted Eggs. See a selection of curious museums>>>
Photo from the Facebook page of the museum
More Information >>>