Museum of Fashion and Applied Arts – Gorizia
Collections of clothes and jewels tracing the costume history from the 18th to the 20th century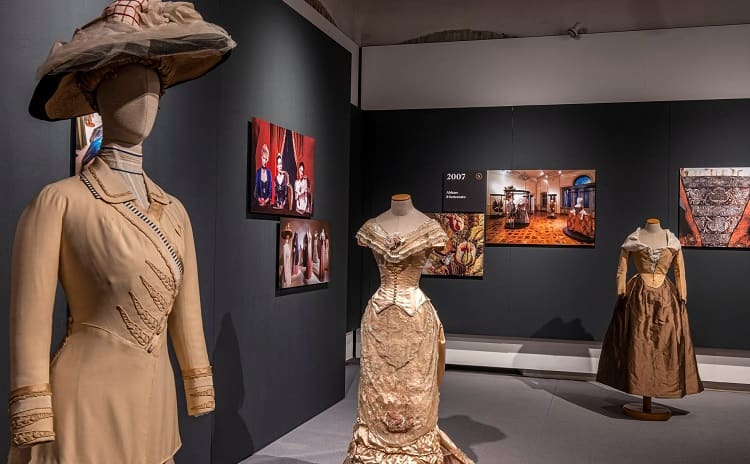 OPEN when FRIULI VENEZIA is in a YELLOW AREA
For the opening hours see the website>>>
Booking is MANDATORY on weekends by calling +39 348 1304726 o or sending an email>>>
MANDATORY to wear a safety mask and to keep an intepersonal distance of at least 1 meter.
________
The Museum of Fashion and Applied Arts in Gorizia, built in 1999, is part of the Provincial Museums of Gorizia, and represents one of the Italian museums dedicated to the history of textiles and costumes.
Silk weaving was an important activity in Gorizia, annexed to the Habsburg Empire until 1918.  Thanks to the influence of the emperors Maria Theresa and Joseph II, in the eighteenth century the area was specialised in weaving simple and excellent quality silk fabrics like taffeta, gros de Tours and damask,
The museum is located on the first floor of the Dornberg and Tasso Houses and includes the sections of silk production, processing and weaving. There is also a section dedicated to the production of jewelry.
The ancient shops – The exhibit itinerary winds through different rooms reproducing craft activities and pold shops like the shoemaker's shop, the hatter's shop and the tailor's shop.
The clothing collections date back to a period between the 1700's and 1900's, with particular regard to the period from 1890 to the First World War. Samples of fabric and clothing are exposed, both for daily use or for ceremonies.
Among the wonders and curiosities on display:
– the circular silk twisting machine, dating back to the mid-1700s. Its particularuity consists in being operated not by the water wheel, but by a person who, located inside it, had to push it by walking backwards.
– bobbin lace, one of the most precious ornaments, which in Gorizia is a tradition dating back to 1672,
– a collection of gloves and handbags from 1700 to 1925.
The applied arts are represented in a section of the museum dedicated to the handmadeproduction of glass and ceramics dating back to the eighteenth century. On display there are containers from ancient pharmacies and locally produced wrought iron from the 19th century.
Fabrics decorated with striped, checked and flower motifs were the protagonists of a new exhibition inaugurated in 2019 on the occasion of the Museum's twentieth anniversary.
Stripes, squares and flowers are motifs running through the costume history since the 1700s and color the clothes and accessories of men, women and children with various degrees of formality
One section is dedicated in particular to stripes and checks exposing dresses with striped and checked fabrics, ranging from the 18th century to the beginning of the 20th century, fashion figures, fabric samples, dresses, jewels, lace, hats, embroidered handkerchiefs, bags and parasols.
The final section is a sequence of situations inspired by the flower theme. They range from eighteenth-century men's clothing, more flowery than a herbarium, to the parasol of the 1920s.
Two multimedia installations help the visitor enrich their experience of the museum:
– an interactive multimedia installation allows visitors to try their hand at textile design, creating the most varied combinations to their liking.
– a second multimedia installation based on fashion figures takes visitors on a journey through the costume history, including domestic interiors, gardens and theaters.
Entrance with a fee
The ticket is also valid for the Great War Museum
Open all year long
Opening hours:
From Tuesday to Sunday from 9 am > 6.30 pm
Closed on Mondays
Photos from the Facebook page of the provincial museums of Gorizia