Felliniana. Ferretti dreams Fellini – Rome
A permanent exhibit dedicated to Federico Fellini's magic imagination. Open all year long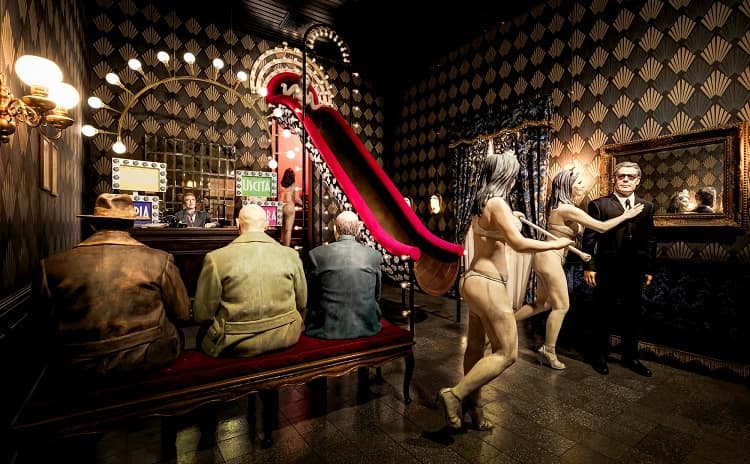 The exhibition Felliniana – Ferretti dreams Fellini is displayed in the famous Palazzina Fellini and offers an immersion into Fellini's imagination, creating a little city inside Cinecittà. It is a physical and dream-like space whose pathway evokes a Renaissance cabinet of curiosities, including locations, signs, and representations of the whole Fellini universe.
The exhibit unfolds across 3 main rooms.
The central room is decorated with film posters, and a vintage Fiat 125 evokes Fellini and Ferretti's continuous travels, when their conversations' topics were also about the description of their dreams.
The itinerary continues with the "Bordello", an area summarizing the fantasy world encapsulated in City of Women (La Città delle donne) with the film's slide and soubrettes gathered around Marcello Mastroianni.
The last room represents the Fulgor Cinema, an emblematic place in Fellini's childhood and his initiation into the cinema – restored in Rimini by Dante Ferretti.
In these three rooms, the magic ability of Ferretti created a new ideal home for Fellini. New drawers in which to contain the dreams of the Master shared with him.
Two further permanent exhibitions are:
– Shooting in Cinecittà where it is possible to be immersed in the history and in the important international films shot in Cinecittà from 1937 to 1990
– Backstage – Cinecittà's Educational Route to discover what's happening behind the scenes of a movie.
Moreover it is posssible to see large outdoor sets as Ancient Rome, Florence in 1400, The Temple of Jerusalem and MIAC Museum.
For information and costs visit the website>>>
Cover Photo Andrea Martella
Photos from the official website of Isituto Cinecittà-Luce
More Information >>>