Ludika 1243 – Viterbo
June 28th to July 2nd, 2023. A playful historical reenactment for children and adults.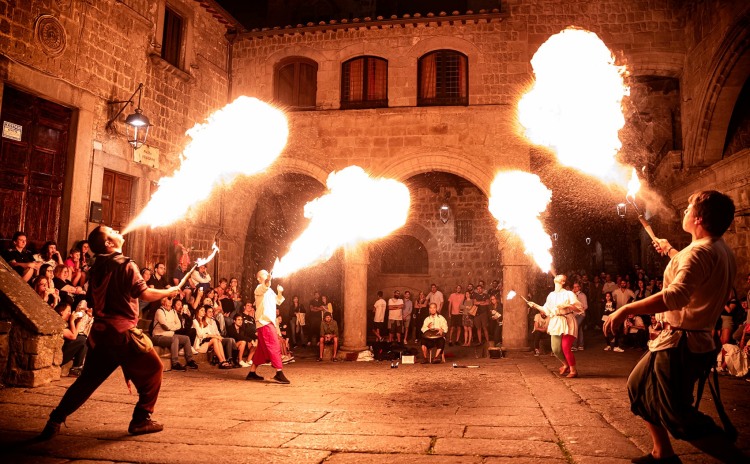 LUDIKA 1243, one of the most famous events of the Tuscan Summer, is taking place from June 28th to July 2nd, 2023 in Viterbo,
LUDIKA 1243 – this year at its 23rd edition – is a playful historical reenactment, featuring many cultural and recreational activities to involve the visitors and make them the real protagonists of the event.
Nobles and beggars, knights and inquisitors, artisans and acrobats greet the members of the audience, engaging them in the 13th Century evocative atmosphere with outdoor games, plays, duels, parades and other exciting activities.
It is possible to take part in a sword tournament, learn the jester's art or even become part of one of the main events of Ludika 1243: the pitched battle between the Guelph army defending the city and the Ghibelline army lead by Frederick II.
In the Middle Ages festivals and outdoor games (tournaments, a simple sack race or a dice game) were an opportunity to meet people from different social classes and to make new friends among them. Ludika's goal is to recreate this atmosphere through Medieval games and sports in order to offer a unique experience for both children and grown-ups.
Ludika is also a "Medieval Street Theater Festival", featuring the characters of Commedia dell'Arte to offer the audience a typical Medieval show.
USEFUL INFORMATION
To see the program, go to the website>>> or facebook page>>>
For more info: Ludika 1243 +39 380 292 9483
ARE YOU IN VITERBO?
Look at other events and places to visit in Lazio>>>
And why not discover the traditional food of Lazio>>>

photo credits: Facebook page of the event – photo by Alessio Buzzi

More Information >>>