D'Albertis Castle Museum of World Cultures – Genoa
Archaeological, ethnographic and nautical materials from 5 continents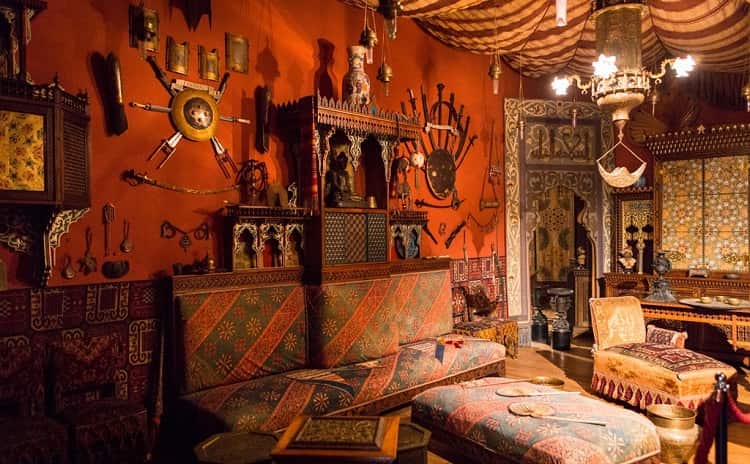 The D 'Albertis Castle Museum of World Cultures in Genoa is the former home of Captain Enrico Alberto D' Albertis (1846-1932), who donated it to the city upon his death (1932).
The Albertis Castle, built at the end of the 19th century in neo-Gothic style and standing on a sixteenth-century bastion, is immersed in a romantic park, among exotic plants, sundials, artificial caves and false ruins, and offers an excellent panoramic view over the city.
The museum exhibits the archaeological, ethnographic and nautical materials collected across 5 continents by Captain D'Albertis in his adventures by sea and land between 1800 and 1900, to which are added the collections of his cousin Luigi Maria D'Albertis, first explorer of the Fly River in New Guinea (1872-1878).
The museum collections are presented in evocative alcoves and furnished in different styles: the Turkish living room, the Colombian room, the Gothic room and the Nautical cabin, the rooms dedicated to the pre-Columbian civilizations of Central and South America, to the Plain Indians of North America, to the Hopi of Arizona, to the peoples and cultures of Oceania.
The library, in the Colombian Room, hosts over 1300 volumes from the 14th to the 19th century.
In this collection there are volumes written by the Captain himself, nautical, travel and history volumes, with particular attention to Christopher Columbus and his ships, numerous books on astronomy and gnomonics, treatises on architecture, medicine, novels and volumes of occultism.
The library can only be consulted by appointment.
The museum shows the fascination exerted by distant worlds by Captain D'Albertis, imbued with "Genoa influence" but also with love for the sea and curiosity towards the unknown.
See also the Facebook page of the Albertis Castle>>>
USEFUL INFORMATION
Opening hours: Tuesday, Wednesday and Friday from 10am to 6pm
Thursday from 1pm to 10pm, Saturday and Sunday from 10am to 7pm
Closed on Mondays
Check the website for any change in opening days and hours>>>
Telephone +39 010 2723 820
Admission with a fee>>>
It is recommended to wear a safety mask and to keep an interpersonal distance of at least 1 meter.
In Genoa you can purchase for 15 euros the Genoa Museum Card and for 24 hours it offers public transport and entrance to 28 museums in Genoa for free>>>
Are you in Genoa?
See other events or places to visit in Genoa>>> and in Liguria>>>
Photo of the Turkish living room from theFacebook page of the Albertis Castle>>> of the museum – Photo by MoVe.photography
More Information >>>