Torta dei Fieschi – Lavagna
13-14 August 2023. Historical re-enactment and a 1300 kilos cake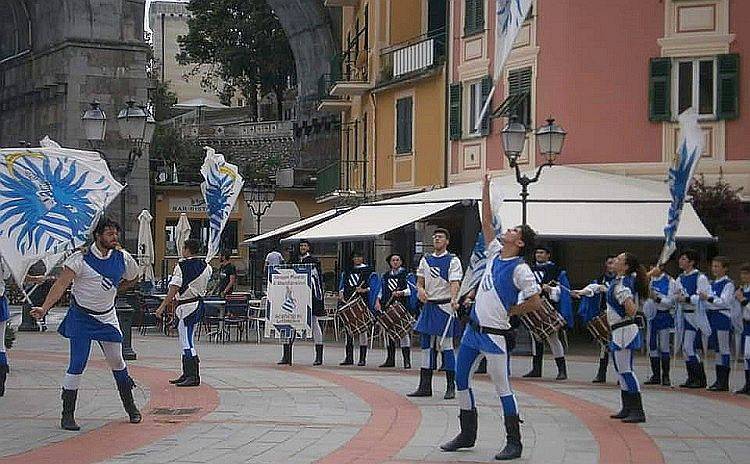 Every year on August 13th and 14th takes place in Lavagna, in the province of Genoa, La Torta dei Fieschi, a historical re-enactment of the marriage that took place in 1230 between Opizzo Fiesco, Count of Lavagna, and the Sienese noblewoman Bianca de 'Bianchi.
La Torta dei Fieschi feast begins on the evening of August 13th, when the Herald of Count Opizzo rides a horse through the streets of Lavagna, escorted by drums and trumpets, to read the proclamation of the wedding.
After the reading of the proclamation, the "Addio do Fantin" (Count Fiesco's bachelor party) takes place in the churchyard of the Basilica dei Fieschi.
August 14th is the day of the wedding and sees a historical parade with 150 re-enactors representing the nobles and the fief.
Dressed in historical costumes, the nobles carry the flags and colors of the 6 Sestieri, the ancient districts of the city of Lavagna, and parade through the streets of the city to Piazza Vittorio Veneto where the Fieschi Tower is located.
At the foot of the Fieschi Tower the symbolic cutting of the 1300 kilos cake takes place which, according to tradition, the couple would have donated to the population to celebrate the union between their two families.
Other events accompany the feast: a game of couples, the reconstruction of the ancient "Fieschi Tower", medieval dances, flag-wavers, falconers, jesters, live medieval music, and the rolling of the drums.
The Torta dei Fieschi has become one of the most evocative events of the Italian folkloristic panorama, attracting thousands of spectators annually.
ItalybyEvents is not responsible for any change of date or program
INFORMATION
Sestieri di Lavagna
+39 333 983 8686 or send an email>>>
See also the organizers' Facebook page>>>
AND AFTER THE EVENT?
See other events and places to visit in Liguria>>>
And why not taste the traditional food of Liguria>>> and its fine wines>>>
Photo from the facebook page of the Sestieri di Lavagna
More Information >>>