Antonio Ligabue. The man, the artist – Monza
February 11th -May 1st, 2022. 90 works depicts one of the most tormented and brilliant Italian artists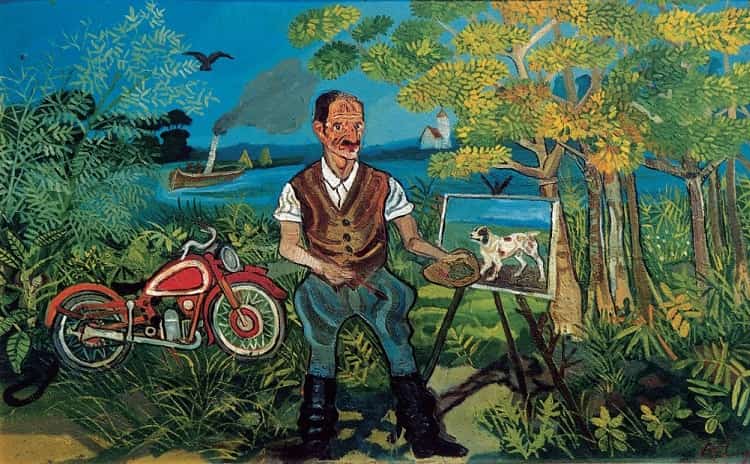 From February 11th to May 1st 2022 the Orangerie in Villa Reale in Monza hosts the exhibition "Antonio Ligabue. The man, the artist" (L'uomo, l'artista) dedicated to Antonio Ligabue (1899 – 1965), one of the most original and tormented artists of the twentieth century.
Ligabue's artistic career is narrated through 90 works, including paintings, sculptures, engravings and drawings dated between the 1920s and 1962.
editorial note – children are welcome. There is also a path designed specifically for  them

The 2 main themes of Ligabue's works in this exhibition are animals and self-portraits.
Animals
– pets in their rural environment. Ligabue too appears in some works
– wild animals, such as tigers, lions, leopards, gorillas, foxes, eagles often portrayed in action, catching their prey.
The self-portraits
Ligabue is always in the foreground. They are a substantial strand of Ligabue's production and they are a tragic photograph of the existential anguish that accompanied and poisoned the artist's entire life.
Over 20 bronze sculptures are also on display, especially of animals making it possible for visitors to have a more complete view of Ligabue's art.
For this reason, the exhibition goes beyond the traditional and somewhat worn-out definitions of a naïf artist marked by madness, and it highlights all the charm of Ligabue as a "tragic expressionist" who blends visionary exasperation, taste for color and decorative taste.
USEFUL INFORMATION
Opening hours
– Wednesday and Thursday from 10 am to 1 pm and in the afternoon from 2 pm to 7 pm
– Friday, Saturday and Sunday from 10 am to 8 pm
– Monday and Tuesday closed
Entrance with fee>>>
DIGITAL COVID CERTIFICATE and FACE MASK are MANDATORY
ARE YOU IN MONZA?
See other exhibitions and places to visit in Lombardy>>>
Photo source: press office
Antonio Ligabue, Self-portrait with motorbike, easel and landscape, 1953-54. Private collection