Crespi Village – Crespi d'Adda
Built in the late 19th century to host the workers of Crespi cotton mill. With school, church…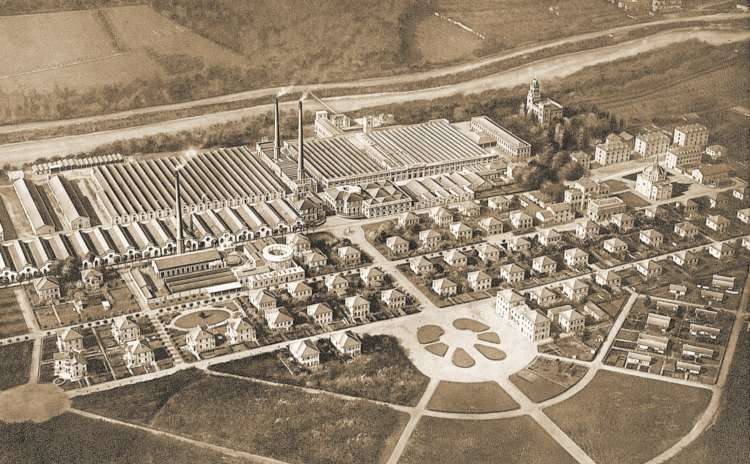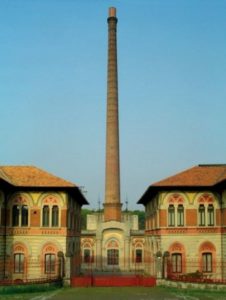 What is the "workers' village"
Crespi d'Adda is the most famous example of a "workers' village".
It was built at the end of the 19th century and was built by the Crespi cotton mill to host workers and employees.
It deserves to be visited: there is no such complex in Italy, entirely intended to house and offer modern local services to the workers of a single company, and built with a lot of foresight, ambition and aesthetic sense.
It is also well preserved and very impressive.
Where is Crespi d'Adda
Crespi d'Adda is a fraction of the municipality of Capriate San Gervasio, in the province of Bergamo where Cristoforo Benigno Crespi had purchased a large plot of land at the confluence of the two rivers Adda and Brembo to set up his cotton mill. The proximity of the rivers was very favorable for the needs of production, to generate electricity and for transport by the river.
The idea and the dream
The idea of the Crespi family (father and son), enlightened entrepreneurs of a progressive Lombardy, was to create the "Ideal Work Village", next to the textile factory, to house employees and their families, and provide them a decent and pleasant life.
A complete and self-sufficient system
The Crespi Village becomes a real, complete and independent town. A house with a garden and vegetable garden and all necessary local services, from school to church, to areas for social life were available to workers, employees and managers. Only those who worked in the factory could live in the Village, and the life of everyone and the whole community revolved around the factory, its rhythms and needs.
Innovative ideas
The ideas of the Crespi family were innovative: the cotton mill was equipped with an autonomous hydroelectric power station and the Village was the first town in Italy to have public lighting with the modern Edison system!
Innovative ideas also on a social and service level: in the Crespi school, reserved for the children of employees, everything was provided by the factory: from books to pens to aprons, from school meals to salaries and accommodation for teachers, up to scholarships to help students continue their studies up to the highest degrees.
Among the many free services, the company even built an indoor swimming pool, with changing rooms, showers and hot water. At the beginning of the twentieth century!
UNESCO World Heritage Site
In 1995, Unesco included Crespi d'Adda in the World Heritage List (World Heritage Sites) as an "Oustanding example of the 19th century company towns, the most complete and best preserved in Southern Europe".
To learn more, visit the Wikipedia page>>>
USEFUL INFORMATION
Opening hours:
Every day from 10.00am to 12.30pm –
July, August and Christmas period: by appointment only
2021 CHECK ON THE WEBSITES IF THERE ARE CHANGES IN DAYS AND OPENING HOURS
For information about the guided tours and bookings visit the website>>>
For reservations please call +39 02 90987191 or send an email>>>
AND AFTER THE VISIT?
Discover places to visit and other events you can participate to>>>
And why not taste the traditional food of Lombardy>>> and taste its excellent wines>>>
More Information >>>