Goose Salami Fair – Mortara
On September 29th, 2024. Gastronomy, folklore and traditions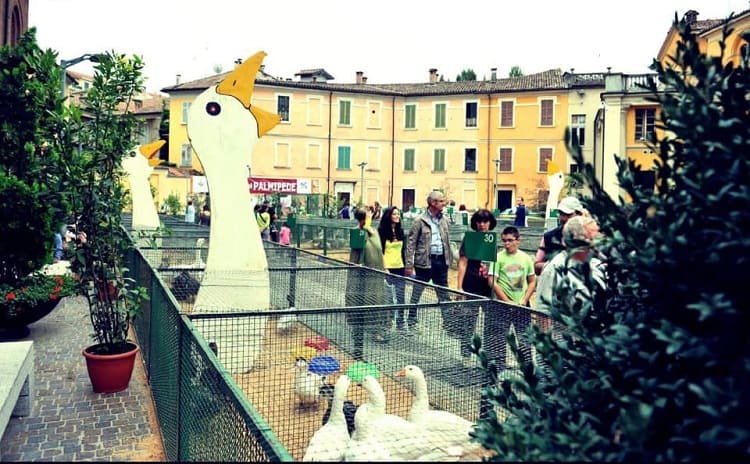 On September 29th, 2024, as usual on the last Sunday of September, is taking place in Mortara, in the province of Pavia, the traditional classic event for foodies: the Goose Salami Fair.
The Goose Salami Fair. this year at its 57th edition, is celebrating the delicacy that is goose salami, considered a product of excellence for quality and goodness, and one of the most important and famous typical products in the province of Pavia, an authentic source of pride for the territory.
Where does all this tastiness come from?
The sausage is produced with goose and pork meat, minced, mixed with pepper, spices and aromas and stuffed into goose bumps. The salami shape is very particular as it can be cylindrical, spherical or "flask" depending on whether the goose skin is taken from the neck, belly or back. The flavor is sublime: the delicate but persistent touch of goose meat is balanced by the corpulent pork. It is a salami to be savored alone or (pleasure!) accompanied by a mustard. Salame d'Oca boasts the European PGI (Protected Geographical Indication) designation since 2005.
Let's enjoy the fair
The Goose Salami Fair is a symphony of delicacies which, needless to say, is focused on the goose and the thousand different ways to taste it. The fair restaurant menu includes raw and cooked goose salami, goose cracklings, goose patè, goose liver mortadella, braised goose, goose cotechino… and other variations, such as street food including the burger in the bun. All accompanied by excellent sparkling wine from Oltrepo.
All around there will be many stands of producers who offer a tasty program to be truly enjoyed without neglecting anything.
And beyond the Fair…
On the day of the fair, the city of Mortara is transformed and re-set in the fifteenth century, at the time of Ludovico il Moro and Beatrice d'Este who will be the protagonists of the great costume parade with over 500 participants. A very evocative scene with flag-wavers performance, the parade of the districts of Mortara, the Captain who will preside over the Goose Game with costumed re-enactors.
INFORMATION
See the program on the website>>>
Visit also the Facebook page>>>
AND AFTER THE EVENT?
See a selection of further events or places to visit in the region>>>
Photos from the official website
More Information >>>