Teatro alla Scala Museum – Milano
One of most important theater museums in the world and includes Livia Simoni library.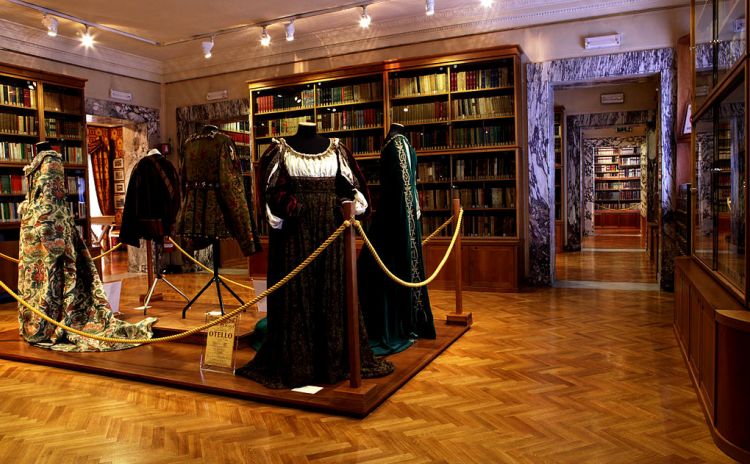 Teatro alla Scala Museum in Milan hosts a priceless collection of theater memorabilia: costumes, set designs, letters, portraits, autograph scores and musical instruments of historical interest.
The museum was based on antique dealer Giulio Sabon's private collection, which was purchased at auction in 1911. The purchase was made possible through the financial support of many Milanese entrepreneurs and musicians: Duke Uberto Visconti di Modrone (President of Teatro alla Scala), Giacomo Puccini, Umberto Giordano, Arrigo Boito, Ettore Modigliani, tenor Enrico Caruso, publishing companies Ricordi and Sonzogno.
The museum opened on March the 8th, 1913.
Since then, it received important donations that broaden the original collection.
During World War II the collections were hidden in safe places.
At the end of the war –  after the rebuild of La Scala theater which was severely damaged by bombing in 1943 – the museum was reorganized by Fernanda Wittgens, the first woman to become director of Brera Art Gallery.
The displays include portraits of composers, conductors and theater actors; ancient musical instruments, paintings depicting Teatro alla Scala throughout history.
Among the many artworks on display:
•  a 17th-century decorated virginal (similar to a spinet) by Francesco Guaracino
•  a collections of porcelains made by Capodimonte, Docci and Meissen porcelain manufactory depicting musicians, actors, musical instruments and dancers
•  a collection of ancient vases depicting dancers, musical instruments, gladiators
•  a collections of puppets from the 18th century belonging to the Italian puppet tradition.
The Library
Livia Simoni Library, part of the museum, contains history and theater criticism books, scripts, photographs, musical scores.
Over the years, the original collection of around 10,000 volumes was increased by donations of books from theater critic Renato Simoni (40,000 volumes), actor Ruggero Ruggeri, writer Arnaldo Fraccaroli.
Today the library boasts over 150,000 volumes and is one of the largest libraries in Italy and abroad in its specialist field.
USEFUL INFORMATION
Opening hours and tickets: see the website>>>
It is recommended to wear a safety mask and to keep an interpersonal distance of at least 1 meter.
See also the Facebook page of the musuem>>>
——
OPERA IS YOUR PASSION? 
See other museums dedicated to opera in Italy. But also festivals and opera seasons…>>>
More Information >>>