Oh Bej! Oh Bej! Fair in Milan
7-10 December 2023. The oldest Christmas Market in Milan.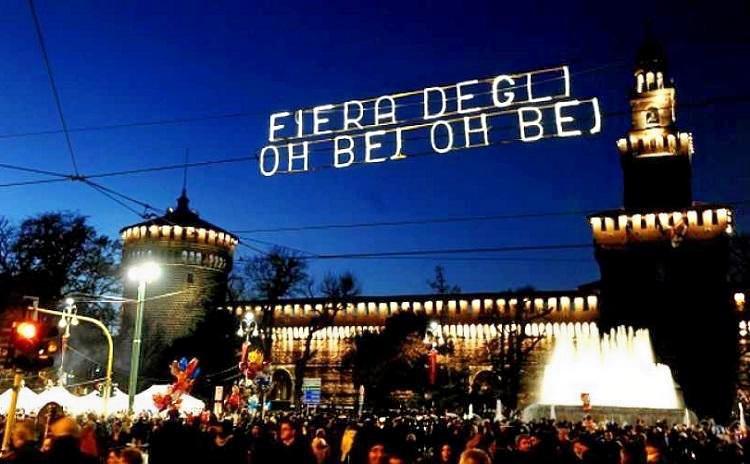 From December 7th to December 10th, 2023 the Oh Bej! Oh Bej! fair is the most important Christmas market in Milan in the days around the feast of Saint Ambrose (Patron Saint of Milan)
CERTAINLY DECEMBER 7TH AND 8TH
FURTHER DAYS TO BE CONFIRMED
Oh Bej! Oh Bej! fair  takes place in front of Castello Sforzesco, and it attracts thousands of tourists every year.
A lot of stands display antiques, bric-a-brac, clothes, toys, Christmas decorations, sweets and winter delicacies.
The Fair is one of the oldest traditions of the city. Its origins can be traced back to 1288, when celebrations in honour of the Patron Saint took place near the old Santa Maria Maggiore.
The origin of the name dates back to 1510, when Giannetto Castiglione, delegate of Pope Pius IV, visited Milan on December 7. Giannetto wanted to ingratiate himself with the Milanese, and thus entered the city carrying boxes full of sweets and toys for children.
Until 1886, the fair was located in Piazza Mercanti (near Milan Cathedral); from 1886 to 2006, it was held right by the Basilica di Sant'Ambrogio; in 2006, it was relocated again, this time to the area of the Sforza Castle.
THE NAME
The name "Oh bej! Oh bej!" ("How wonderful! How wonderful!") is supposedly a reference to the cheerful cries of the Milanese children when receiving presents.

WILL YOU SPEND YOUR CHRISTMAS HOLIDAYS IN ITALY?
See a selection of further Christmas events in Italy >>>