Districts' Palio – Vigevano
11-14 October. Historical reenactments and Medieval games.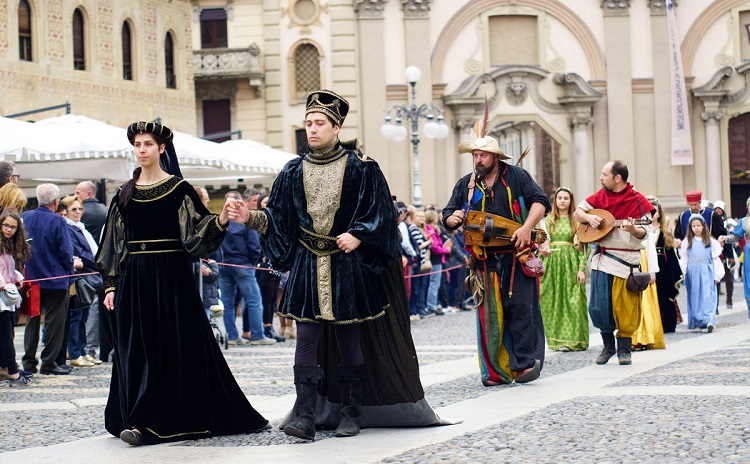 The Palio delle Contrade takes place in Vigevano from Friday, October 11, to Monday, October 14, 2019, for two days of celebrations, historical reenactments, and old Medieval games.
During the Pre-Palio, on Sunday 8th, before the real Palio begins, there is a big parade through the city centre, which ends with the reading of the Challenge Announcement by the previous year's District winner.
The parade sees more than 400 figures participating, including Francesco I Sforza, Duke of Milan, his wife Bianca Maria Visconti Sforza, their children, and the districts' representatives. Also parading are the historical groups of Biancofiore (a group of Renaissance dancers), Aurora Noctis (group of jugglers), Alfieri dell'Onda Sforzesca (group of drummers), and the Armory of the Dukes (flag wavers).
On Friday evening (October 11), torchlight procession and Holy Mass.
The actual Palio takes place on Saturday and Sunday: 3 competitors from the nine districts, 2 men and 1 woman. The boys have to carry the lady on a sedan and transport her through a hurdle path along via Carrobbio, to arrive to Piazza del Beato Matteo, the city's patron to whom the Palio is dedicated.
During the Palio, in Vigevano's main square, a Medieval market with traditional local products and crafts of the time, as well as performances by jugglers, jesters, storytellers, archers, blacksmiths, dancers and warriors.
Not to be missed are the tours of the Sforzesco Castle, usually closed to the public.
The Children Medieval Games, a smaller version of the Palio specifically designed for kids, takes place every May since 2000.
(photos: event's official website)
Go to the website Districts' Palio – Vigevano