The Ghisallino – Bellagio and surroundings
Bike tour on Como Lake: lake, mountains and famous cycling places.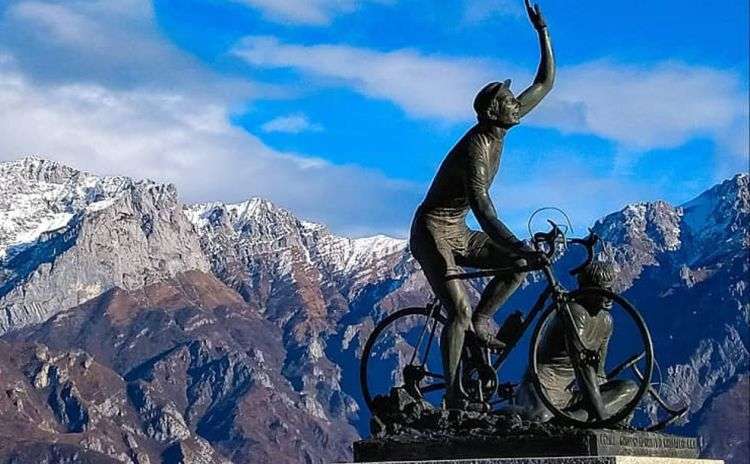 The so-called "Ghisallino" is a 35 km circular cycle route, with a rise of 500 vertical meters. It is surrounded by the lake, the mountains, and beautiful landscapes.
The itinerary, of medium difficulty, starts and ends in Bellagio, the village located at the end of the promontory of the same name dividing Lake Como in the two "branches" praised by Alessandro Manzoni in the novelThe Betrothed.
The route is good for beginner cyclists, who can rent regular bicycles or e-bikes, and is excellent also for racing bike lovers as an "introduction" to the climbs in the area.
After the departure from Bellagio, by the lake, cyclists pass the tiny village of Onno and face a not-too-hard rise of 5 km to Vallassina in the heart of the Lariano Triangle, that is the area of ​​the promontory that divides the two branches of the lake.
A second rise, called "Ghisallino", leads to Colle del Ghisallo, a sacred place for cyclists from all over the world, which has been repeatedly included in the Giro d'Italia route.
On the top of Colle del Ghisallo there is the famous chapel dedicatet to Madonna del Ghisallo, considered to be the patroness of cyclists. Inside the chapel, there are also racing bikes that belonged to Bartali, Coppi…
In the near Museum of Cycling visitors can get to know the history of cycling. The Museum has been created by the cyclist Fiorenzo Magni and hosts "cult" objects such as the largest collection of pink jerseys, "historic" bikes including that of Eddie Mercx, Fabio Casartelli, Coppi, Bartali and also that of Alfonsina Strada, the first woman that participated at the Giro d'italia.
The view is exciting and sweeps towards the Grigna and Grignetta, the rocky mountains above Lecco.
From Colle del Ghisallo the return descent towards Bellagio, along the hairpin bends towards Civenna and Bellagio Monte with breathtaking views of the lake.
The Ghisallino route is a topic full of Lombardy's beauties, recommended in the middle seasons and especially on midweek days to avoid the typical Sundays' traffic.
Ghisallo is famous also because every year it is part of the Giro di Lombardia, the professional race called "foglie morte" ("dead leaves" ) which became famous also for the sporting "battles" of great champions such as Fausto Coppi and Gino Bartali when the Giro di Lombardia was included in the Giro d'Italia.
STILL FEELING LIKE CYCLING?
See a selection of cycle paths in Italy>>>
And do you know that in Novi Ligure there is the Cycling Champions' Museum? It is dedicated to Fausto Coppi and Costante Girardengo and tells the story of cycling>>>
Photo source: from the InLombardia tourist website of the Lombardy Region