Ticino Palio – Pavia
Sunday, June 11th, 2023. Historical parade, archers' competition, and boat race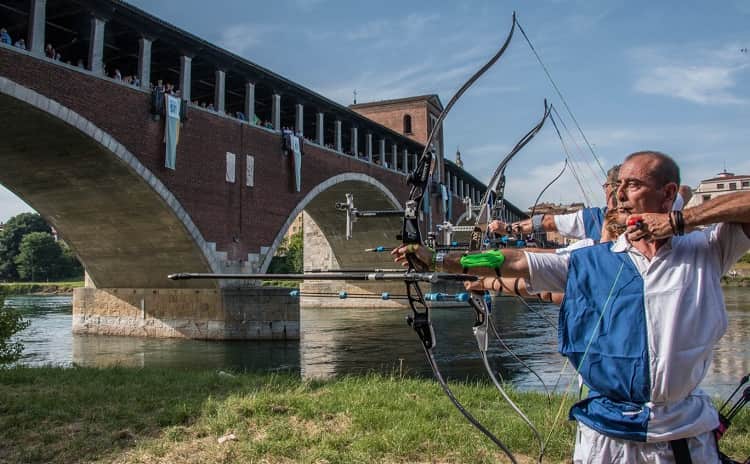 On Sunday June 11th, 2023, as usually on the second Sunday of June, the Ticino Palio takes place in Pavia.
The Ticino Palio, reaching its 17th edition, evokes medieval life at the Castello Visconteo of Pavia, where a real medieval camp is set up, with a carousel on horseback, a large aviary of over 12 meters of falconry, flag-wavers and so on…
The Palio del Ticino day opens with a Holy Mass and the blessing in the Cathedral of Pavia, in front of the Duke Filippo Maria Visconti and the Duchess.
In the afternoon, the Historical Parade takes place with over 200 figures in historical costume representing the entire court, armigers, nobles, ladies of the court. The parade runs through the streets of the historic center up to the Covered Bridge, where the public stands on the banks of the river to follow the Palio.
To conquer the Palio there are 2 races:
– the first is the competition between archers on the banks of the Ticino river on the shore of Borgo Ticino.
– the second is the traditional boat race, a rowing race with the classic flat-bottomed boats that are used on the river.
Competing for the banner of the Palio are the teams that represent the local rowing tradition: the Ticino Rowing Club, the La Barcela Cultural Club, the Colombo Battellieri Society, the Pavesi Rowing Club and the Motorboat Association.
The sum of the scores of the two competitions establishes the winner.
CURIOSITY
From the end of May, those passing through Pavia will be able to see all the banners of the previous editions on display in Piazza Vittoria.
USEFUL INFORMATION
Free participation
For information: Palio del Ticino Association
Tel. +39 333 994 4047
Send an email >>>
See also the Facebook page of Palio for updates
AND AFTER THE EVENT?
See other places to visit and events in Lombardy>>>
And enjoy the traditional food of Lombardy>>>
Photo source: Palio website
More Information >>>