Cavalcade of the Assumption – Fermo
On July 9th start the celebrations for the big Assunta Palio on August 15th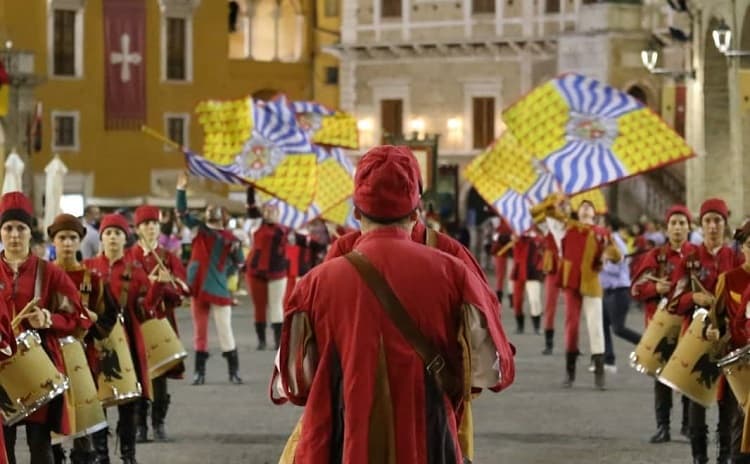 On August 15th, the feast of the Assumption of Mary, the Race to the Palio, also known as the Cavalcata della Assunta, takes place in Fermo.
The first written documents referring to the feast dedicated to the Virgin Mary date back to 998 AD. C. making the Cavalcade of Fermo the oldest historical re-enactment in Italy.
The celebrations begin much earlier, from 9 July with the Kids Palio, and include competitions for drummers, archery, tug of war…
See the complete program>>>
August 14th and 15th are the crucial days:
– on the evening of August 14th the Historical Parade takes place with the participants in fifteenth century costumes walking through the city streets that mark the route of the palio.
– on August 15th the Historical Parade goes to the competition field where the Palio dell'Assunta is held with the horse race that sees the 10 districts of Fermo competing. To the six historic districts of the city – Campolege, Castello, Fiorenza, Pila, San Martino, San Bartolomeo – four other 'forane' districts have been added over the years, i.e. outside the walls of the historic centre: Torre di Palme, Capodarco, Campiglione and Molini Girola.
The Palio Race is divided into two tournaments with five horses each and the final between the first two classified horses of each tournament, plus the winner of the draw among the third classified.
The route is all uphill and about 850 meters long starting from Largo Ostilio Ricci, to continue in via Trevisani, viale XX Settembre, in the bend and end in Viale Vittorio Veneto.
INFORMATION
Call +39 0734 225924 or send an email>>>
See the program>>>
For updates go to the Facebook page>>>

ARE YOU IN MARCHE?
In Marche there are many ancient villages to visit
Find out more about the region>>>
See a selection of what you can do or visit in Marche area>>>

Photos from the Facebook page of the event
More Information >>>