Christmas in Mombaroccio – VIRTUAL EDITION
Unti January 10th 2021 VIRTUAL EDITION of the Christmas Market and Santa Claus' House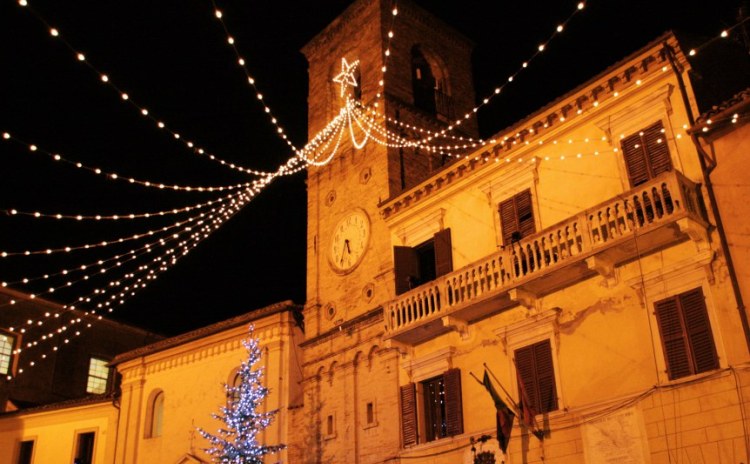 The 20th edition of Christmas in Mombaroccio will be a VIRTUAL EDITION>>>
Usually on the last weekend of November and the first two weekends of December, this year the Christmas event has been prolonged until January 10th, 2021, the magical Christmas atmosphere is back in Mombaroccio, on Marche's hills, for the 20th edition of Christmas in Mombaroccio.
For seven days, the Medieval village celebrates the holiday season with the traditional Christmas Market and its "Cloister of Flavours": 37 house-shaped stalls display the finest Christmas-themed handmade objects, as well as excellent local food, wine and products such as honey, cheese and torrone.
However, the event that characterizes Christmas in Mombaroccio the most is the enchanted artificial snowfall scheduled every day at 4:30 pm, 5:30 pm and 7 pm. At dusk, in the main streets of Mombaroccio (Via G. Del Monte, Via Servici, Piazza Barocci), snowflakes magically start falling from the sky, while evocative music plays in the background.
Plenty of activities and events are thought specifically for children: shows, fairytales and stories are scheduled every day at the Municipal Theatre, while in Santa Claus' House, kids can write their letters with Santa himself, taste the delicious sweets prepared by him and his helpers, and create Christmas decorations in his workshop.
Other unmissable events include the Living Nativity Scene, strolls in the city centre, the Galileo and Guidobaldo workshop, and tours of the Museum of Rural Culture, Sacred Art and Embroidery.
Opening times and tickets:
10 am-9 pm
€3,
free for children under 10.
(photos: event's official website)
More Information >>>