The Turba in Cantiano
April 7th, 2023. One of the most important representations of Good Friday in Italy.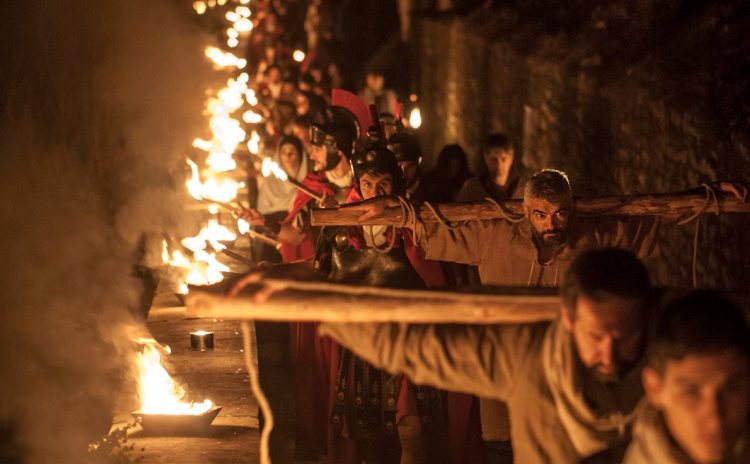 On April 7th, 2023 it takes place in  Cantiano, a municipality in the province of Pesaro-Urbino, a holy representation called Turba.
The Turba in Cantiano is celebrated every year on Good Friday. It has origins from the popular movement in mid XIII century between the  Marche and Umbria region and supported by the begging religious order (especially connected to the Franciscan order). Cantiano was one of the villages that welcomed the "turba" of the penitents, that walked throught the village flogging themselves and begging for peace, accompanied by the songs of the "Miserere".
Since then the Company of the Disciplined of Saint Cross was founded which proposed to transmit the religious sense by representing the Passion and the Death of Christ.  In 1938 the Company of Good Jesus broke up and the Turba Society was founded.
The Turba in Cantiano, is known as one of the most important Holy Representations of Good Friday realized in Italy. The historical centre of the village becomes a big open-air theatre, where 250 characters play with customs of that time and the spectators follow them crossing the streets of the village.
The ritual starts on Good Friday at 5 o'clock in the morning, when a group of young people walks through the village streets to awake who wants to participate to the Visit of the Seven Churches (also known as the Tour of the Seven Churches).  They use an instrument locally called Battistrangola, made of wooden table with an iron handle.
The Visit of the Seven Church became famous as a collective prayer by San Filippo Neri (1515-1595) in the principal Roman churches, but then it was spread out everywhere, always characterized by the number seven. The "Seven" is indeed considered a "holy" number: it represents the number of the holiest places in Rome, but also some themes of the passion, the seven journeys of Christ in the Passion, the seven words of Jesus at the cross, the seven sorrows of the Virgin Mary, etc.
We kindly recommend checking the website or the facebook page for any possible changes and updates

photo by Rosato – 2016 edition


ARE YOU INTERESTED IN EASTER RITUALS?
See further Easter and traditional religious events in Italy>>>
More Information >>>