Feast of Covo – Osimo (Ancona)
First Sunday of August. Cart made of grain and religious procession.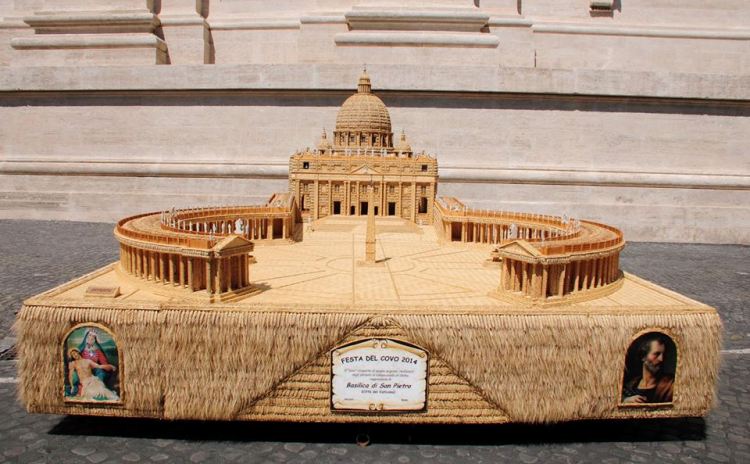 On the first Sunday of August,  it takes place in Osimo, in the province of Ancona, the Feast of Covo, or Feast of Còu  (cart in the dialect of Osimo) which is a religious and traditional event celebrated every year.
The protagonist is a cart realized by the local farmers with ears of grain. Every year it's made in a different way but the theme is always religious: it can represent a church, a sanctuary or places of worship.
The first edition of the feast of Covo dates back to 1939 when a farmer, Clemente Ciavattini. with his sons and other local farmers realized the first cart that represented the coronation Crown, located in Campocavallo Sanctuary.
After the construction of the wooden skeleton, the ears of the grain were weaved together.
On August 5 1939 the feast was officialized thanks to the support of the bishop and Father Carlo Grillantini. Once it was completed, the Crown was brought as a thanksgiving offering for the harvest prosperity.
The Procession of Covo in the village's streets gathers a lot of people participating in this big celebration to discovering the theme of the year.

USEFUL INFORMATION
For more info, See the Facebook page>>>
or send an email>>>
Credits photo: Festa del Covo
——
Will you be in Osimo?
See other events and places to visit in Marche>>>
And why not taste the traditional food of Marche>>>