The Dead Christ procession – Isernia
April 7th, 2023. On Good Friday, procession with statues and penitents.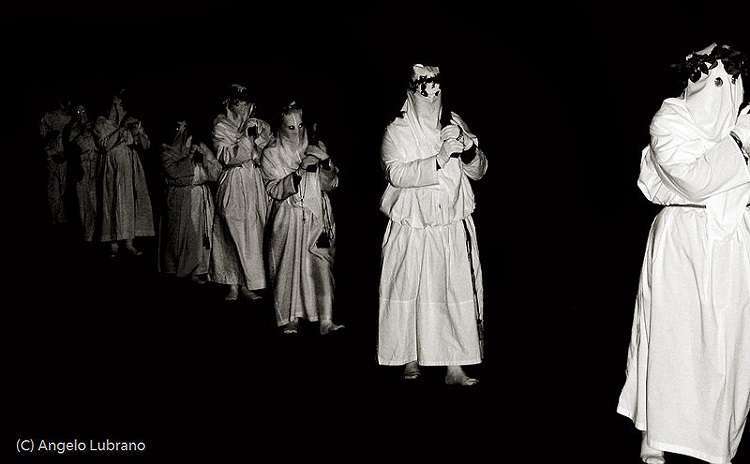 Every Good Friday, this year on April 7th, 2023, the Dead Christ procession takes place in Isernia, a representation of the grief and the collective condolence for Jesus' death, in which the main theme consists in representing the Death to overcome the Death.
Good Friday is indeed the day of grief recalled with the sacrifice of the Agnus Dei, a word that indicates Jesus as a sacrificial victim for the human sins' redemption. But it's also the final act that allows the Resurrection of Christ which occurs on Easter Sunday.
The principal figures of the procession are represented by the statues that are carefully prepared and dressed by the old women of the territory:
– Dead Christ statue, marked with red wounds of the martyrdom and surrounded by fresh flowers;
– Lady of Sorrows statue, wearing a black dress and a cape with gold embroidery, and has a heart pierced of seven daggers, which symbolize the 7 deadly sins;
– the Ecce Homo busts, statues that represent Christ after the flogging with the crown of spine and the red cape;
– the "Calvary Crosses", the "Shroud crosses" and the crosses with the elements that recall the martyrdom, the crown, nails, swords, spear, scourges, etc.
At the procession the hooded penitents participate, men and women, wearing a white tunic, tied with a red rope and a hood on their head which hide their identity. The penitents carry the crosses and the statue of the dead Christ, of the Lady of Sorrows, the Ecce Homo busts. Some of them, as a sign of penitence, walk barefoot.
At the procession participate also the brotherhood of the territory, each of their worshippers wears a coloured cape and without the hood: the brotherhoods of Santa Maria del Suffragio, of San Domenico, Sant'Antonio and the brotherhoods of San Nicandro and San Pietro Celestino.
Particular is the participation of the gipsy community in Isernia, very faithful to Saint Anthony.
Also a lot of participation by the children of the brotherhoods.
ItalybyEvents is not responsible for any change in programs
cover photo by Angelo Lubrano

ARE YOU INTERESTED IN EASTER RITES?
Look at a selection of Easter rites throughout Italy>>>
Continuously updated list