'Ndocciata Christmas fire show
On December 8th 2021, one of the greatest European fire shows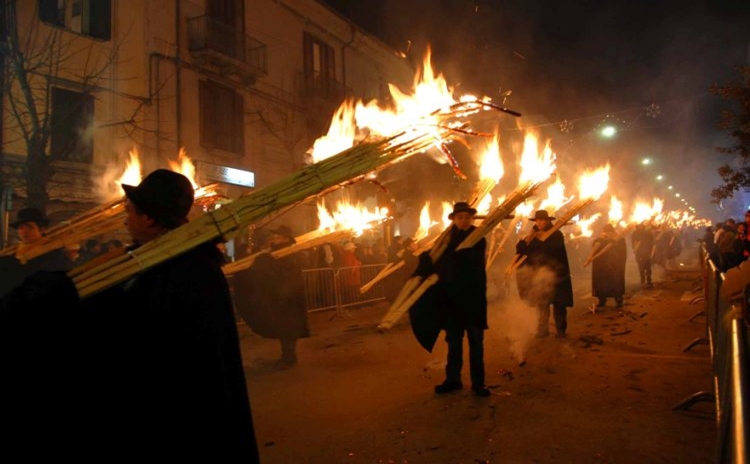 'Ndocciata is one of the greatest fire shows in Europe and it is celebrated in Agnone, in the Province of Isernia.
In 2021 it will take place on December 8th (usually also on Christmas Eve, December 24th), a great number of big torches with a typical fanwise shape, called "'ndocce", are carried in procession through the streets of the town.
The carriers wear the traditional shepherd cape and represent the five districts of Agnone.
They try to stand up to the heat and, at the same time, bear the weight of the torches while dancing and spinning in circles.
Women and children open the parade holding the banners of the groups and reenacting scenes of rural life.
Agnone is also home to the oldest bells factory in the world, established around the year 1000.
ATTENTION 2021, PLEASE CHECK ON THE WEBSITE OR ON THE FACEBOOK PAGE ANY CHANGE OF DATES OR PROGRAM
FROM AUGUST 6TH IT IS MANDATORY TO HAVE THE GREEN PASS OR EQUIVALENT CERTIFICATION
AND AFTER THE FIRE SHOW?
See other places to visit and other events to attend>>>
And why not taste the traditional food of Molise>>> and its excellent wines>>>
More Information >>>