Baìo of Sampeyre – Val Varaita
One of the most traditional feasts celebrated every 5 years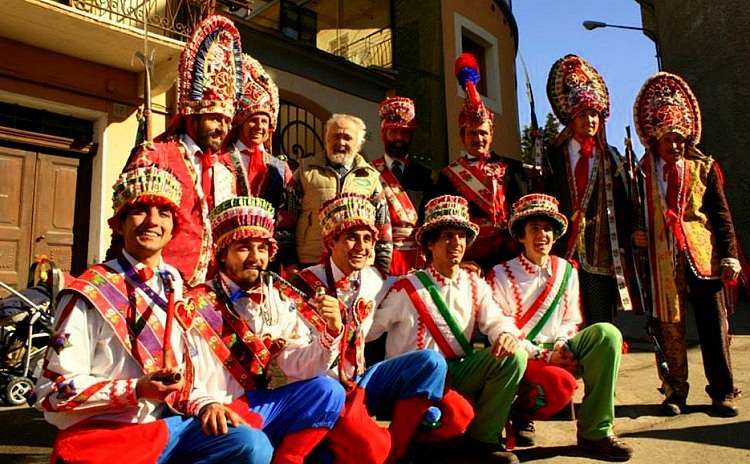 On February 5th, 12th,16th, 2023 it takes place in the province of Cuneo the Baìo (also known as Baio of Sampeyre), a traditional feast organized every 5 years in the municipality of Sampeyre, in the Varaita Valley
The "Baìo di Sampeyre" is one of the most important and ancient traditional feasts in the Italian Alps.
The Baìo's origin goes back before 1000, when Saracens invaders (traditionally people coming from Southern Mediterranean Sea) were driven away by the native population. The feast was created to commemorate this victory.
Today the Baio of Sampeyre takes place on two Carnival Sundays and it ends on the final Thursday before Lent (the day celebrated as Fat Thursday).
The Baìo program includes four parades (or "armies"), coming from Sampeyre (Piasso) and its three hamlets: Rore (Rure), Calchesio (Chucheis), and Villar (Vilà).
Traditionally, only men participated in the parades, while the complicated costumes were woven by the women. The men traditionally interpreted also the roles of women.
The Baìo feast has a very strict and traditional format:
On the first Sunday, the Baio of Calchesio visits the Baio of Sampeyre and of Abà (heads of the festival), and they greet each other by crossing their swords.
On the second Sunday there's a parade to the square where the four Baio groups meet and dance.
On Fat Thursday, the inhabitants celebrate a particular process during which the communities judge their Treasurers accused of theft to community damage.
Dance is one of the most important protagonists in Baìo of Sampeyre feast.
The Valle Varaita is in fact an important center for the maintenance and rediscovery of Occitan traditions. They maintain many traditional dances and folklore as well as music. The sounds of violins, accordions, organs, clarinets and hurdy-gurdy (sonsaina in Occitan) are the instruments during traditional dances such as courento, gigo, courento di custiole, countradanso, tresso, bureo of San Martin, bureo vieìo, and others.
For seeing the program and being updated, see the facebook page>>>
(photo municipality facebook page)
ARE YOU COMING TO SAMPEYRE?
Take the opportunity to enjoy traditional wines>>> and food>>>
DO YOU LIKE CARNIVALS?
See a selection of Carnival feasts around Italy>>>