Cycling Champions' Museum – Novi Ligure
The history of cycling, of Fausto Coppi and Costante Girardengo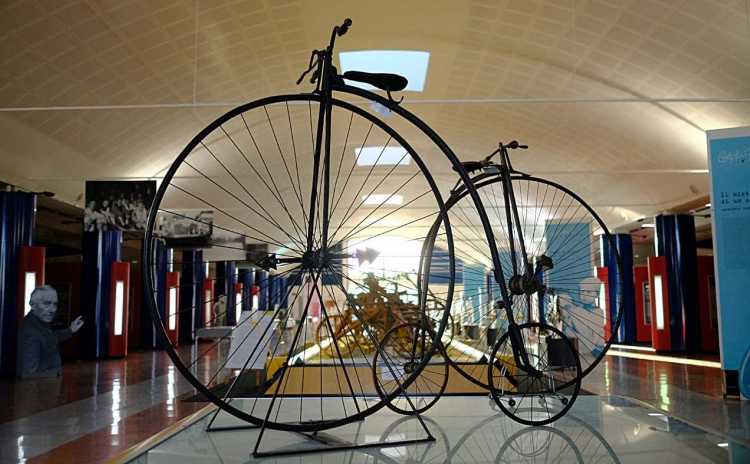 Opened in 2003, the Cycling Champions' Museum is the greatest tribute to the history of bicycles and cycling. The museum was inspired by the champions Fausto Coppi and Costante Girardengo, both born in Novi Ligure. a nice town in the area of Alessandria (Piedmont)
The Cycling Champions' Museum is housed in a 20th-century industrial building close to the city center. The museum has a central "track" which divides the exhibition spaces. The track represents the evolution of the pavement: from the clay to the cobbled road, tarmac, to the modern materials of the tracks.
The 40 bicycles exposed narrate the evolution of the bike since the first wooden model designed at the end of 'the 15th century by Leonardo da Vinci to the latest titanium prototype.
One of the vast rooms is dedicated to the history of the Bike Tour of Italy through pictures and pages from "Gazzetta dello Sport" and "TuttoSport", the main daily Italian sports newspapers.
In the main hall, there is an interesting exhibition of bicycle-related workers: the seller of roasted chestnuts, the knife grinder's cycle, the cycle for the gas cylinders carriage, or the one used up to now by some bakers…
The Hall of Champions, dedicated as a homage to Fausto Coppi and Costante Girardengo, offers visitors some vintage films and visual and audio evidence of their achievements passing on big screens and 8 multimedia totems.
Exposed also memorabilia about their public and private life.
The museum has a visitor service area with a library and a museum shop.
USEFUL INFORMATION
For the opening hours please check the website>>>
BOOKING for individual visits is RECOMMENDED
It is recommended to wear a safety mask and to keep an interpersonal distance of at least 1 meter.
For booking and information call +39 0143 772266 or send an email>>>
Entry with a fee
Visit also the Facebook page of the Museum>>>
CYCLING IS YOUR PASSION?
Discover a selection of cycle paths and cycle routes in Italy>>>
DO YOU WANT TO KNOW FURTHER INTERESTING MUSEUMS?
See a selection of Curious Museums around Italy>>>
More Information >>>