Gran Bal Trad Festival – Vialfrè
3-8 July 2023. Traditional dances and music for thousands of people.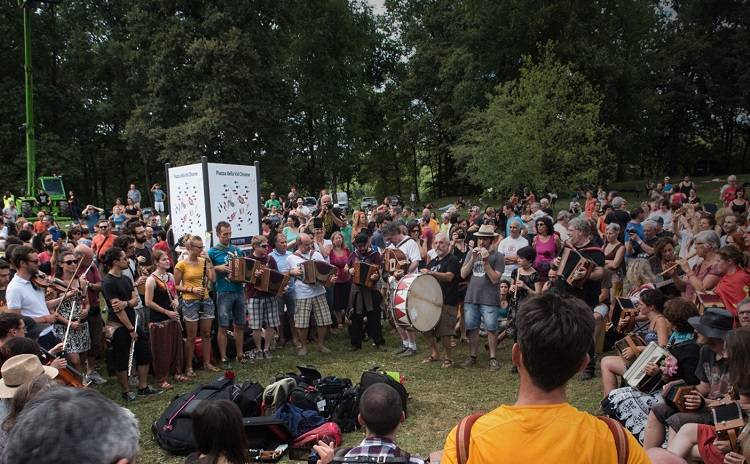 From July 3rd to 8th 2023, at Gran Bal Trad six days of dances and popular music for thousands of people in the small village of Vialfrè, in the province of Turin.
Gran Bal Trad is an international festival of traditional folk dances and music for people who want to learn and experiment traditional Italian and European dances and music.
The days of the Gran Bal Trad include dance and instrumental workshops in the morning and in the afternoon and continue until dawn with dance evenings.
During the days of the festival, thousands of people participate, spectators and protagonists of the full immersion in traditional dances and music.
Entertainment also for children
Teachers and artists from all over Europe were invited for dance and instrumental workshops, evening concerts, and conferences.
The Luthiers will be among the protagonists of the edition at The Luthiers' Wood (Il Bosco dei Liutai), a large part of the naturalistic area of Vialfré.
Bagpipes, accordions, violins, hurdy-gurdies, fifes, flutes, mandolins, guitars … will be exhibited by master luthiers from the main Italian schools.

USEFUL INFORMATION
Registration is required to participate.
Paid registration with reductions>>>
Free admission for children and teenagers up to the age of 15,
50% reduction up to the age of 24.
Minors are admitted only if accompanied
How to get there>>>
See updates on the website>>> and on the facebook page>>>
HOW TO GET THERE
Train: Line Torino P.N. – Chivasso – Ivrea – Aosta. Station: Ivrea, 17 km from Vialfrè.
Public transports: Buses from Ivrea to Vialfrè.
Plane: the closest airports are Torino Caselle, Milano Malpensa, Milano Linate and Bergamo Orio.
From the airports it is possible to reach the train stations with shuttle buses.
Car: Motorway Torino-Aosta (A5), exit at Scarmagno. Turn right and follow the indications for San Martino Canavese. At the traffic light in the center of San Martino, go left towards Vialfrè. Go through Vialfrè and, near the cemetery, turn right toward Pianezze. Special road signs for Gran Bal Trad from Scarmagno exit to the Festival area.

ARE YOU PLANNING TO GO TO PIEDMONT?
What special dishes can you eat there?

Photo from the website of the festival

More Information >>>