Gran Bal Trad Festival – Vialfrè
4-10 July 2022. Seven days filled with dances and music for thousands of people.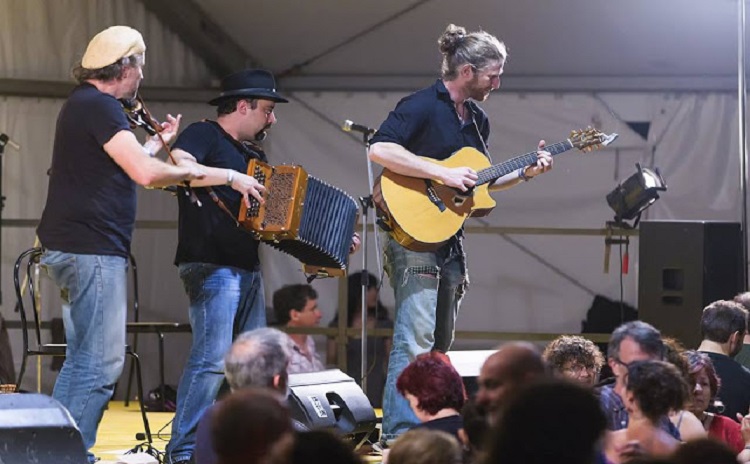 From July 4th to 10th 2022, at Gran Bal Trad seven days of dances and popular music for thousands of people in the small village of Vialfrè, in the province of Turin.
Gran Bal Trad is a festival for people who want to learn and experiment traditional Italian and European dances and music. The festival is filled with events, dances and traditional music where the participants are immersed in traditional music and dances.
The schedule of Gran Bal Trad includes dance and music instruments workshops in the morning and in the afternoon. From sunset till sunrise dancing nights on the 5 big stages of the festival.
Night and day, more than 250 teachers and artists from all over Europe entertain the public with their dance and instrument workshops, night concerts and conferences.
Five cultural associations with a common passion for music and dancing offer their help and enthusiasm on a voluntary basis.
More than 150 volunteers deal with all the services of the festival: admittance, food, bar, cleaning, security.
We kindly recommend to check on the website or on the event's facebook page for any possible change of dates or program
HOW TO GET THERE

Train: Line Torino P.N. – Chivasso – Ivrea – Aosta. Station: Ivrea, 17 km from Vialfrè.
On Wednesdays and Mondays a free shuttle bus service will be available from Ivrea to Vialfrè and vice versa. Shuttle bus timetable on Wednesday are: 10.00 – 11.00 – 13:00 – 16:00 – 19:00 – 21:00. Timetable for Monday will be displayed at the info point in Vialfrè. For eventual trips out of the timetable there special prices which can be directly requested to the service owner (Lara +39 331.50.55.888).
Public transports: Buses from Ivrea to Vialfrè.
Plane: the closest airports are Torino Caselle, Milano Malpensa, Milano Linate and Bergamo Orio.
From the airports it is possible to reach the train stations with shuttle buses.
Car: Motorway Torino-Aosta (A5), exit at Scarmagno. Turn right and follow the indications for San Martino Canavese. At the traffic light in the center of San Martino, go left towards Vialfrè. Go through Vialfrè and, near the cemetery, turn right toward Pianezze. Special road signs for Gran Bal Trad from Scarmagno exit to the Festival area.
Are you planning to go to Piemonte?
What special dishes can you eat there?
Photos by Biagio Salerno and Stefano Pozzo

More Information >>>