Museum of Magic – Cherasco
The most relevant museum of magic in Italy. Themed rooms, magic shows and workshops.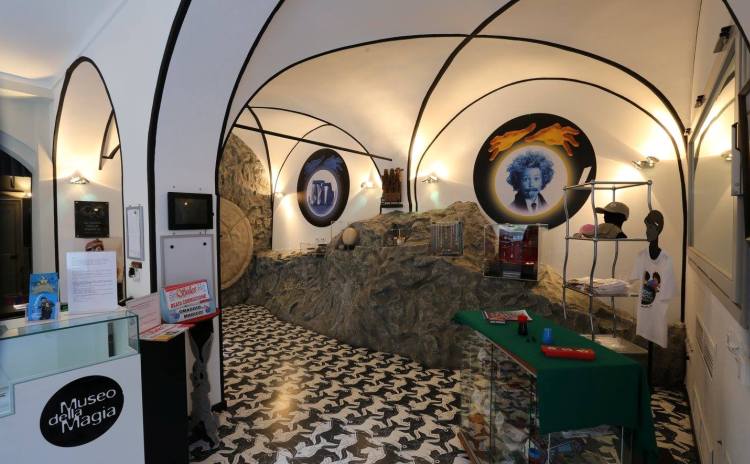 TEMPORARILY CLOSED
Opening hours:
 From November 1 to March 20, Sunday 2.30 pm – 6.00 pm
From March 21 to October 31, Saturday, 3.00 pm – 6.00 pm, Sunday and holiday, 9.30 am – 1.00 pm and  2.30 pm – 6.00 pm
Booking is MANDATORY by calling at the number +39 335 473784 or sending an email>>>
SAFETY MASK is MANDATORY.
In program every hour magic shows with a maximum of 20 people per show.
______
The Museum of Magic in Cherasco was an old nursery school and now is one of the most relevant museums dedicated to the art of magic in Italy. It has 18 themed rooms, a vast library containing 19,000 accessible volumes about magic and a theatre where performances and magic shows are held.
(see opening hours and moths at the bottom of the page)
Children and adults go through the various rooms with fairy-tale settings and discover the origins of illusionism, the tools, the styles of the magicians and the great magicians in history.
In every room, visitors test themselves on close-up magic tricks, mentalism, and optical illusions and learn, for example, how the techniques of illusionists and the tricks of mediums work.
Among the many attractions on the route of the museum, there is the Mouth of Truth, the talking head, the enchanted forest, the great illusions, the spiritualist's séance, the Theatre of Illusions and  Wonderland.
The route ends outdoor with the Fairy Garden.
During the year, the museum hosts performances, shows, and magic workshops. It is possible to organize birthday parties, guided tours and magic shows included.
Since 2014, the city of Cherasco has been nominated magic capital of the world thanks to the initiatives and events organized by the Museum of Magic that help to make the art of magic known.
The museum is managed by the Wizard Sales Foundation.
In 2016 Don Silvio Mantelli – Wizard Sales – has gifted a magic wand and a white top hat to Pope Francis at the papal audience during the Jubilee of the World of Travelling Shows.
Do you want to read the Pope's speech to the artists? Click here >>>
(in the photo Pope Francis receiving the top hat from Don Silvio)
Opening hours
From March 21 to October 31
Saturday, 3.00 pm – 6.00 pm
Sunday and holiday, 9.30 am – 1.00 pm and  2.30 pm – 6.00 pm
 From November 1 to March 20
Sunday 2.30 pm – 6.00 pm
On Sundays and public holidays the Museum offers a show at 4.15 pm, a magic workshop (for children aged 5 to 11) at 5.00 pm (by reservation only) and two rounds of guided visits in the afternoon at 3.00 and 5 pm
Closed in August
More Information >>>