The Strada dell'Assietta – Cottian Alps
In the high mountains a 60 km long dirt road between Val Chisone and Susa Valley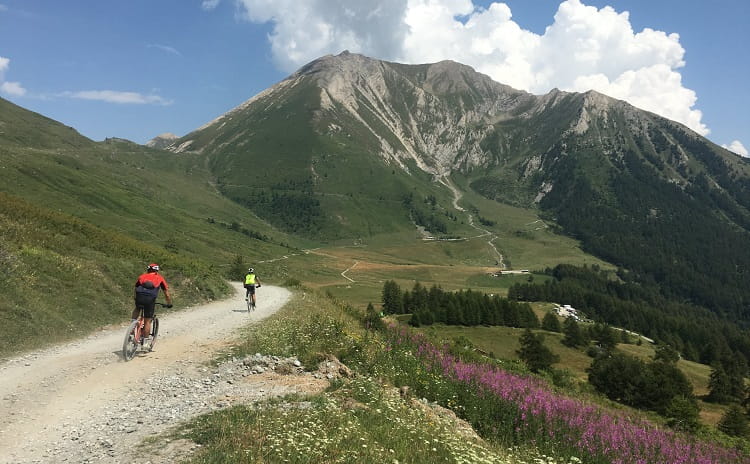 Strada dell'Assietta (Assietta Road) is a quite difficult 60-km road on a former military road, mostly unpaved, located in the Cottian Alps, in Piedmont, along the ridge that separates the Val Chisone from Susa Valley.
For expert mountain bike lovers it is open from July to October and it is a unique opportunity to discover one of the most evocative corners of the Western Alps, rich in biodiversity and history.
Starting from Sestriere at a height of 2,044 m, cyclists go up to Col Basset with a difference in height of 7%. A small climb full of hairpin bends and panoramic views, which goes through several mountain passes and offers magnificent views over both valleys.
The route continues on the Strada dell'Assietta, cycling in the Gran Bosco di Salbertrand Natural Park, crossing several hills and passing by old military installations, forts and bunkers.
After passing Col Bourget, Monte Genevris, Col Blegier and Colle Lauson, cyclists arrive at the head of the Assietta, in the shadow of the obelisk that supports the eagle of the Assietta.
After passing the Casa Assietta Refuge at km 25, the road continues to Pian dell'Alpe (1950 m) with some wonderful hairpin bends. At km 40 riders reach Alpe Pintas, where the hut can be a second refreshment point before tackling the last climb of the route.
The descent is 11 kilometers and 28 hairpin bends towards the Susa Valley.
The Strada dell'Assietta is quite challenging, suitable for mountain bike and gravelbike lovers, and is also known for the amateur MTB race called Tour dell'Assietta.
The Strada dell'Assietta is managed by the Metropolitan City of Turin.
Like any high mountain passes, there is a winter closure from October 31st to June 30th each year. In summer, the transit of motorized vehicles is regulated.
Photos from the Facebook page of the road
A SELECTION OF CYCLE PATHS
The Assietta road is one of the most challenging routes.
See further cycle paths we have selected for you. Some to enjoy even with children>>>