The Holy Week in Francavilla Fontana
7-17 April 2022. Traditional festivities in the province of Brindisi.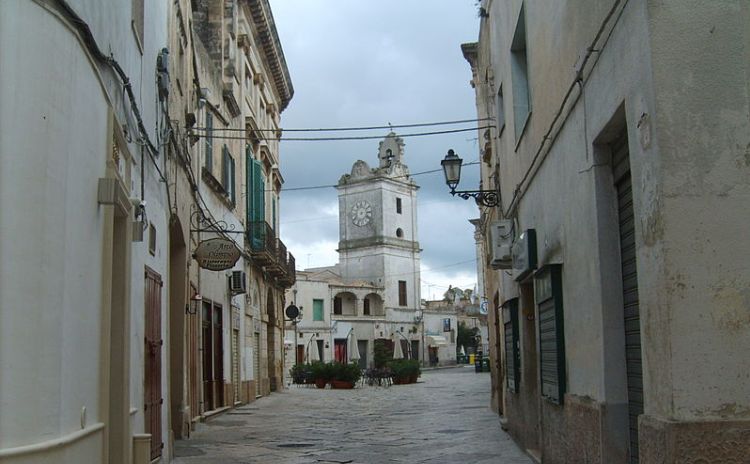 The events regarding the Holy Week in Francavilla Fontana, a municipality in the province of Brindisi, in Apulia, starts on Thursday of Passion (7th April 2022) when the children bring canopies decorated with flowers, called "piatti" as a sign of peace.
On Holy Thursday, the Mess in Coena Domini (Last Supper) is celebrated and it is the pilgrimage day to the sepulchers. In this occasion the brothers of every congregation of the city are seated in a row and, once taken their shoes off, they extend their right foot to the parish who washes it.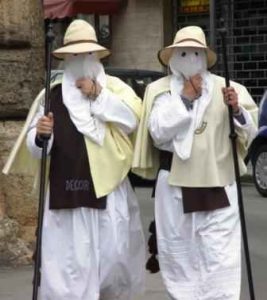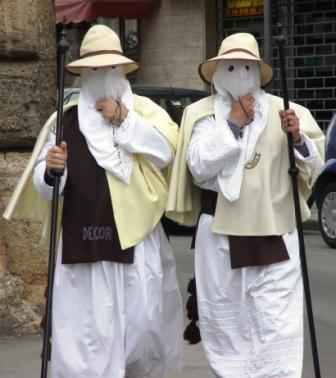 The most characteristic figures of the Holy Week in Francavilla Fontana are the "Pappamusci", brothers of the Congregation Carmine who move around by couple and from the early afternoon of Thursday until the sunset of Good Friday, walk barefoot through the village as a sign of penitence and visit the city's churches praying in front of the sepulchres where the Dead Christ lays. They wear white customs, with a particular belt (it represents the symbol of sacrifice), with a shoulder girdle (a brown dress that covers the chest), a hood that hides the face and the walking stick of the pilgrims called bordone.
On Good Friday in the procession, there are 3 statues representing the Lady of Sorrows. Every year the statues are different because the statues of the different brotherhoods are brought in turn in the procession (the brotherhoods are 6). The year when the statues of the Venerable Brotherhood of Maria SS. Del Carmine are carried, the statues are two, united, that represent Virgin Mary and Saint John.
In the afternoon the Cross Adoration announces Jesus death. In the evening of the Procession of Misteri the congregations walk carrying the statues made of papier machè that represent the different moments of the Passion.
The Crucifiers, (o Pappamusci cu lli trai), follow the procession and bring on shoulder wooden beams. They are barefoot and hooded penitents or faithful followers that follow the "fall statue" that represent one of Jesus' fall to go to Golgotha.
The procession is closed by the statue of the Dead Christ carried by the brothers of the Death followed by the Mayor, Carabiniere chief, Prior of the Royal Brotherhood of the oration and death, from the first citizen magistrate to the citizens' crowd.
On Easter Sunday the wake continues once it starts in Holy Saturday evening when the bishop light the fire blessing it on the church porch. When the procession enters in the church the Easter candle is lighted and it announces Easter. In the evening the statue of the Resurrected Christ comes out, from the Immaculate parish: a semi-nude statue carrying a flag with a red cross.
More Information >>>