Joust of Districts in Oria (Brindisi)
12-13 August 2023. Medieval historical reenactment remembering Frederick II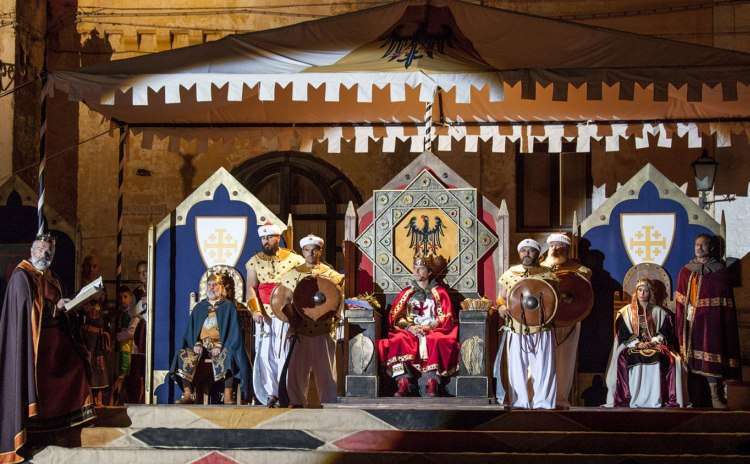 Since 1967, the town of Oria, in the Province of Brindisi, hosts Torneo dei Rioni (Joust of Districts), a historical reenactment in honor of Frederick II (1194 – 1250), Holy Roman Emperor and King of Sicily. This year, the Joust takes place on August 12th and 13th, 2023.
The celebrations begin on Saturday with the usual Historical Parade featuring over 1000 participants. Ladies, nobles, knights and jesters follow Frederick II through the streets of Oria. Starting from Istituto dei Padri Rogazionisti, the parade ends in piazza Manfredi with the opening ceremony of the Palio.
The modern tournament is inspired by the 1225 tournament called by Frederick II in honor of John of Brienne, father of his wife-to-be Jolanda and guest of the Imperial Court.
Each year, in remembrance of that event, the four districts of Oria (Castello, Lama, Judea e Santo Basilio) compete against each other to win the yearned Palio.
The town of Oria
According to Herodotus, Oria was founded by a group of Cretans landed on the Salento Coast after the sinking of their ship. The town reached its peak between the 8th and 10th Century, thanks to its thriving Jewish community. The narrow streets of the ancient Jewish Ghetto are a testimony of its glorious past. In 1225, Frederick II defeated the Normans, who had ruled over Oria for almost 200 years. The Castle of Oria hosted the wedding between the Holy Roman Emperor and his wife Jolanda of Brienne and it is now a National Monument.
USEFUL INFORMATION
See the scheduled events>>>
You can buy tickets online>>>
See also the facebook page>>>
For more information call Pro Loco di Oria +39 0831 845 939
or send a mail>>>
Are you in Puglia?
See other events and places to visit in Puglia>>>
Anc enjoy the traditional food of Puglia>>>
More Information >>>