The Night of the Tarantula, Salento
August 4th to 28th, 2021. Popular traditional music festival in Lecce area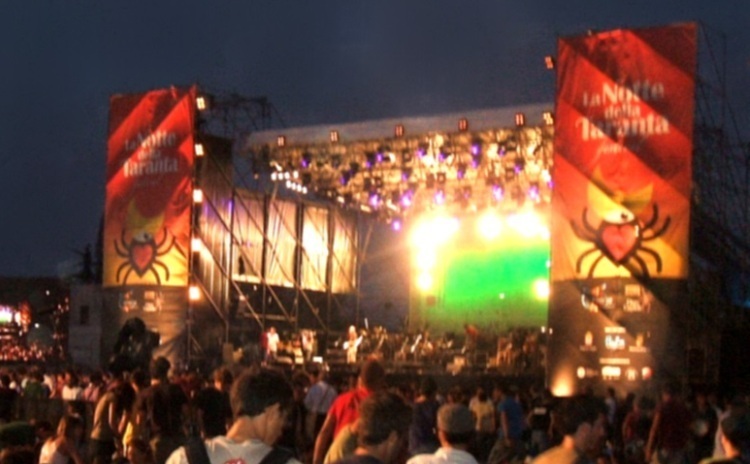 2021 – In order to participate, this year it is MANDATORY to show the Green Pass or molecular swab done in the 48 hours preceding the event.
At the final evening in Melpignano no more than 1.000 participants.
——-
"La Notte della Taranta" (The Night of the Taranta) is festival focused on the traditional popular music of the Salento area.
It is held from August 4th to 28th, 2021 and it involves lots of municipalities in Lecce area, ending the 28th in Melpignano, where people dance till dawn.
What is the orign of the name?
According to popular traditions, the bite of "taranta" (the tarantula spider) provokes a form of hysteric behaviour characterized by excitability and restlessness.
The victims of the spider (tarantulees) had to engage in frenzied dancing to prevent death from tarantism.
This peculiar kind of dance, called the tarantella, is accompanied with a particular genre of music (pizzica) and was considered a cure for the tarantism.
In order to find the right rhythm that could be able to heal the victim, several musical instruments were involved, one of them was the tambourine.
Every year nearly 300.000 tourists come to Salento to take part in the "Notte della Taranta".
CURIOSITIES
From the legend of Tarantula, in Italy the quote "have you been bitten by a tarantula?" is still used nowadays addressed to those who are considered unnecessarily agitated.
DO YOU KNOW PUGLIA / APULIA?
Puglia is one of the most famous summer destination in Italy
Do you want to know more about this sunny region? Click here>>>
And find also the further events in this period>>>
More Information >>>