Cambas de Linna – Guspini
24 February-6 March 2022. In Sardinia, the Carnival where men dressed as wading birds walk around Guspini.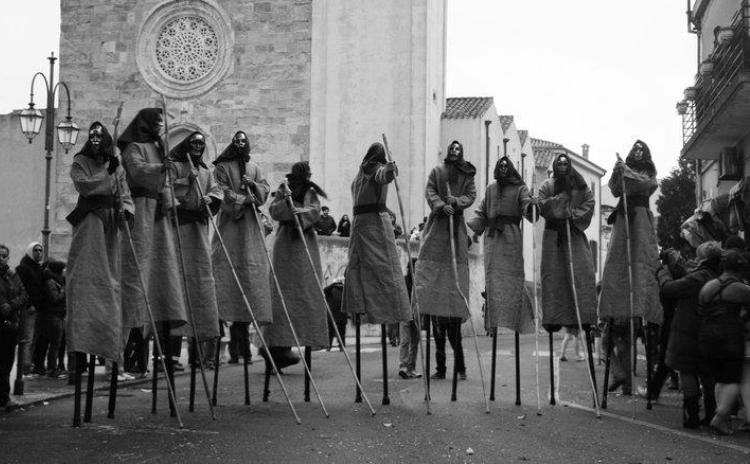 Cambas de Linna is the traditional Carnival of Guspini, a small village in the province of Medio Campidano, in Southern Sardinia.
At its 3oth edition, the Carnival in Guspini takes place from 24th February to 6th March 2022, It starts on Thursday, the day where usually masks hangout in the square for the "Kids' Carnival".
The most important day is Mardi Gras, when allegorical wagons participate in the parade called "Is Cambas de Linna".
The next Saturday,  "Carnevalinas" occurs: this is a hangout of allegorical wagons from the municipalities near Mount Linas and other municipalities of Sardinia, not only of Medio Campidano.
The name Cambas de Linna means wooden legs who represented the wading birds. So this is how are the main characters of the carnival are called, who wander in the streets asking frittelle (some kind of pancake) and wine. They wear old clothes and a particular wooden mask called "Sa Garotta". This mask is divided into two parts: one half represents the good part and the other one the bad part. Today the mask is replaced with a makeup that consists in painting the face with charcoal.
The Knights used to wear the traditional clothes and the mask Sa Grotta, while walking a path around 1 km. They used to leave from an area called "Su Legau" (on the South of the village) and arrive in the main square.
One curiosity: since the 60's also small wagons take part in the parade, sometimes dragged by tractors or by Piaggio's Vespa (realized by the Vespa Club).
We kindly recommend to check or on the event's facebook page for any possible change of dates or program
During the Carnival period, the zippole are prepared, typical frittelle of Sardinia.
But which are the typical and recipes products of Sardinia? Which are the most important wines of the territory? Discover them here >>>
Photos: from the event's official Facebook

More Information >>>