Lu Garden – Pimentel
March 19th-April 25th, 2023. A field of 200,000 tulips to see and buy supporting research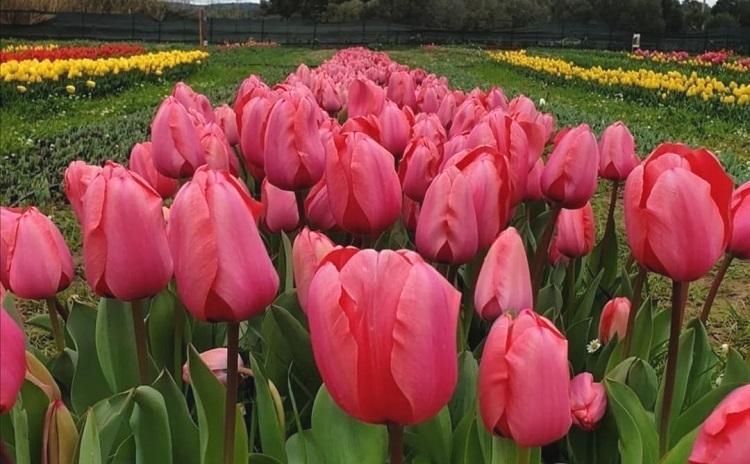 From March 19th to April 25th, 2023 Lu Garden is open again. It is a tulip field in Pimentel, in the province of Southern Sardinia.
Lu Garden is a wonderful flowery field where everyone can collect their tulips, but also a large project to support research, training and information on ovarian cancer.
The idea of the garden came out in 2016 when Maria Fois Maglione founded the the Association in memory of her daughter Luena, who passed away from ovarian cancer at the age of 37.
In a short time her personal journey has become a project involving a growing community of volunteers and donors who, captured by her thoughts and the beauty of the Garden, share and support this purpose.
In 2022, over 200,000 tulips were planted in the Lu Garden, distributed in 30 rows, in sandy flower beds and in small fences under the shade of a poplar grove.
The garden opens to visitors when spring arrives. Visitors can walk among the tulips and personally collect the ones they prefer along with bulbs, and the proceeds are donated to research against ovarian cancer.
Not just tulips. The garden is also home to freesias, irises, rancunculus, peonies, the labyrinth of sunflowers, butterfly plants, olive trees and wisteria.
And for children there is an enclosure where they can experience the thrill of riding the horse Zeniosa.
USEFUL INFORMATION:
Opening hours: from March 19th to April 25th 2023, every day from 9 am to 6 pm.
For any further information call +39 340 2494517 or send an email>>>
To be updated visit also the facebook page>>>
Are you in Sardinia?
See other events and places to visit>>>
And why not taste typical Sardinian food>>>
Photo from the Facebook page of the garden
More Information >>>