Sartiglia – Oristano
February 19th and 21st, 2023. Medieval game of chivalry with knights and horses.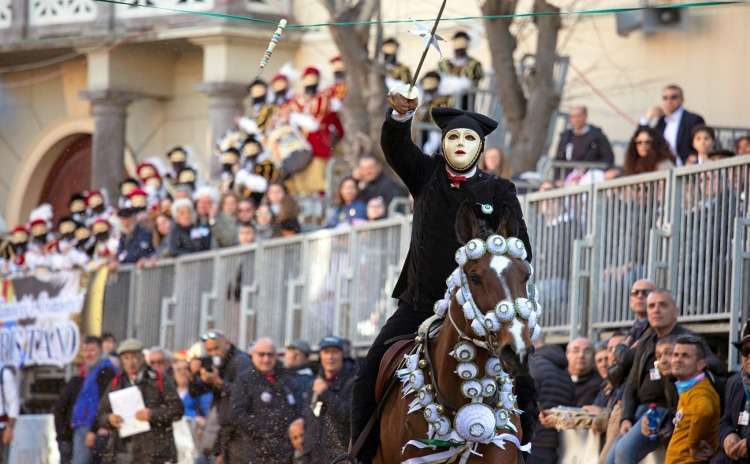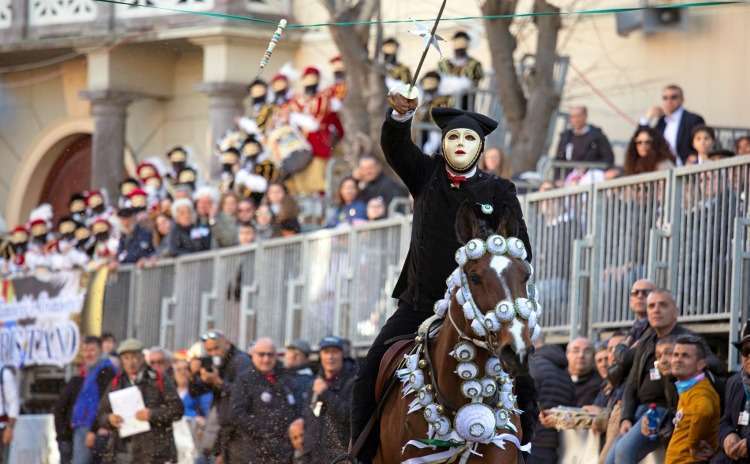 The Sartiglia is celebrated every year in Oristano on the last Sunday and Tuesday of the Carnival, this year on February Sunday the 19th and Tuesday the 21st, 2023.
The origin of Sartiglia (also known as Sartilla or Sartilia), dates back to the Middle Ages.
The name comes out from the Castilian word Sortija ('wedding ring'), which in turns comes from Latin (sorticola, 'ring', is a diminutive of sors, 'luck').
In the two-day event, knights compete to seize the silver Star, the prize of the tournament.
The Farmers and Carpenters' Guilds handle every stage of the Sartiglia.
After the "Dressing of Su Componidori" (the Head Knight of the tournament), a parade of knights moves towards the Cathedral of Santa Maria Assunta, where the Star Joust begins.
Here, Su Componidori charges the Star and attempts to capture it with his sword, as do his two aides-de-camp. The head knight of the Joust and his mates can then try their luck for the second time using a wooden lance (Su Stoccu).
Once the Star Joust is over, the Sa Remada begins. Riding his horse facing backwards, Su Componidori rides down the track at full gallop, greeting and blessing the Guild and all people present. The route ends in via Mazzini, where the race of Pariglie – consisting of audacious equestrian acrobatics – takes place.
At the end of the Sartiglia, Su Componidori blesses the crowd with a Sa Pippia 'e Maiu, a double bouquet of periwinkles and violets, before starting the last stage of the tournament, the Undressing of the head knight.
We recommend to always check on the facebook page for any changes of dates or program.
(cove photo by Pier Giorgio Dessì on facebook page of Sartiglia)
More Information >>>