Chocolate Museum – Modica
In Modica, the city of chocolate, to get to know an IGP chocolate of ancient origins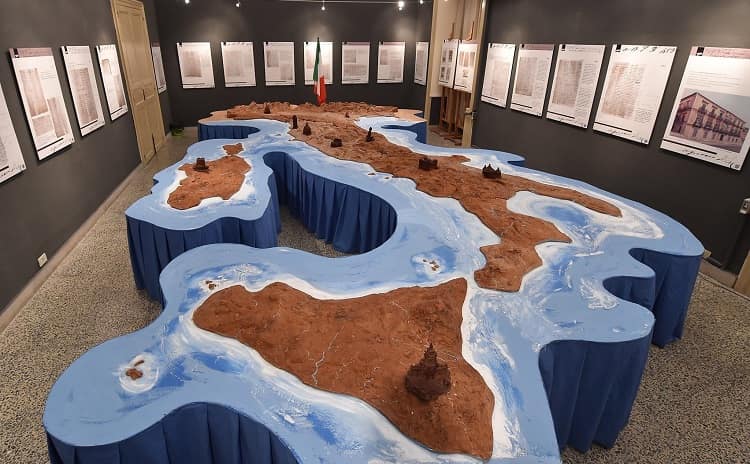 The Chocolate Museum is located in the Palazzo della Cultura, in the southern part of the city of Modica, in the province of Ragusa. it is about 500 meters away from the San Giorgio Cathedral which is located in the center of the city between numerous and suggestive baroque streets.
The Museum has been created to celebrate Modica chocolate, the oldest chocolate in the world and the only European chocolate recognized since 2018 as a Protected Geographical Indication PGI product and for this reason, Modica boasts the title of "City of Chocolate".
The different itineraries of the museum allow visitors to retrace the history of chocolate from ancient times to the present day, and to see numerous tools used for processing chocolate, from the oldest to the most recent ones.
Inside the Chocolate Museum visitors can also admire a 9-meter miniature of Italy made entirely of Modica chocolate.

Why is Modica Chocolate so special?
Modica chocolate has the particularity of being processed at low temperatures that never exceed 40° C and which give this chocolate a more grainy and crumbly flavor and consistency than traditional one.
The technique for the production of Modica chocolate is very ancient, introduced in Modica by the Spanish who dominated these lands in the sixteenth century, who in turn learned it from the Aztecs.
Today, the cocoa paste may be also mixed with other ingredients in order to obtain chocolate bars of different tastes. The most popular are vanilla and chili pepper, as well as those with classic Sicilian citrus fruits that are used in many dishes of regional cuisine.
As no other substances are added to Modica chocolate, resulting in 100% vegan.

USEFUL INFORMATION
Opening all year round
Opening hours: Monday to Saturday from 10am to 2pm and in the afternoon from 4pm to 7pm, Sunday from 10am to 1pm
Admission with a fee>>>
It is recommended to wear a safety mask and to keep an interpersonal distance of at least 1 meter.
See also the Facebook page for more updates

DO YOU WANT TO KNOW ABOUT FURTHER THEME MUSEUMS?
See a selection of Unusual Museums all around Italy>>>
Photo from the Facebook page of the museum
More Information >>>