The Dance of the Devils in Prizzi – Sicily
Sunday, April 9th, 2023. A celebration focused on the fight between God and Evil.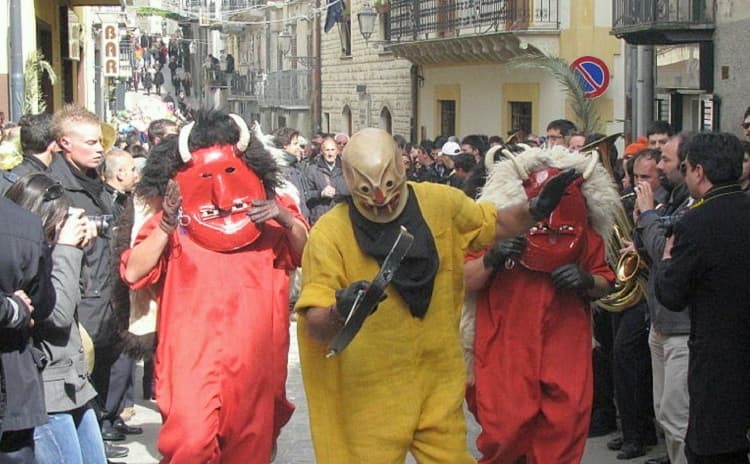 On Sunday, April 9th, 2023 – the Easter Sunday – in Prizzi, in the province of Palermo, it takes place the Dance of the Devils (U Ballu di Diavuli), a half-profane half-sacred celebration.
The Dance of the Devils is one of the most characteristic Easter events in Sicily which made Prizzi famous in the world.
The feast starts at 3,30 pm when the Death and the Devils wander in the streets.
The Death, masked and dressed in yellow robes, with a crossbow in his hand, walks through the city searching for souls to take to Hell. When they are captured, the victims are locked up in a house and they can be freed only by paying an obolo, a small sum of money.
The Devils wear red overalls and a big mask. Together with Death, they spend all day playing around with people and locking them up.
The peak of the event occurs when the Death and the Devils try to prevent the gathering of the Virgin Mary and the Resurrected Christ statues in the main square of Prizzi.
On the third attempt, the Angels arrive and hit and kill the forces of Evil, while the bells ring to mark the beginning of the celebration.
At that point the Virgin Mary loses her black cape and shows herself with a light blue dress, thus representing the triumph of good over evil.
The Devils surrender and make a purification ritual from the sin with the pigliar'a paci, by bowing down three times in front of the statues of the Virgin Mary and the Resurrected Christ.
Check the event's facebook page for any possible change of program.
A short history
The event was a pagan feast to celebrate the arrival of Spring. By the time it has changed and now represents the fight between the forces of God and Evil introducing elements of the Christian tradition of Jesus' Resurrection.
The traditional food of the feast is cannatedde, a typical sweet made of short pastry and boiled egg.
Do you want to discover the typical dishes of Sicilian cuisine? Follow the link >>>
Credits photo: Facebook page of the event.


ARE YOU INTERESTED IN EASTER RITUALS?
See further Easter and traditional religious events in Italy>>>
More Information >>>