Eighteenth-century Nativity Scene in Acireale
From December 1st to January 8th, 2023, inside a church built in a cave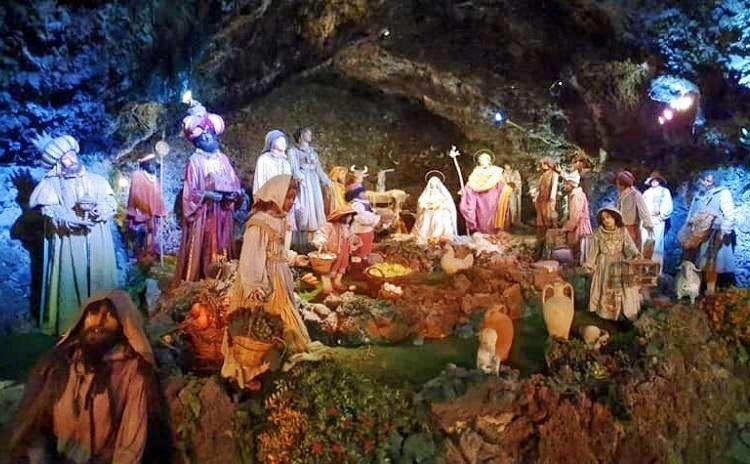 From December 1st to January 8th 2023, the small church of Santa Maria della Neve in Acireale, known as "A Rutta" (the cave), hosts the 18th century Nativity Scene of Acireale.
The Nativity scene dates back to 1741 when the priest Mariano Valerio decided to use this lava cave, quite resembling the cave of Bethlehem, to set up a life-size nativity scene and have local artisans model the faces of the characters who make up the traditional nativity scene in wax. In 1752 the cave was enlarged and consecrated as a church.
The Nativity scene is made up of 34 characters wearing nineteenth-century costumes and in the setting there are also objects of the Sicilian tradition. It is worth noting the great expressiveness of the faces and the attention to detail.
In addition to the traditional figures, there are also some characters taken from Sicilian tradition such as "Innaru" (January, who warms up in front of the fire) and "u wonderighatu da stidda" (the character entranced by the passage of the comet).
USEFUL INFORMATION
Entrance with a fee: € 2.00
Free for children under 6, seniors over 75, disabled people
Groups: ONLY by reservation
For information or booking, please call +39 335 8434776 or +39 329 6154135
or send an email>>>
NOTE
ItalybyEvents is not responsible for any changes in dates and programs.
Check on the website or on the Facebook page to be updated
——
WILL YOU SPEND CHRISTMAS HOLIDAYS IN ITALY?
See a selection of further Christmas events in Italy >>>
More Information >>>