Saint Joseph Feast – Valguarnera Caropepe
March 19th. In Sicily, the most important feast day of Italy dedicated to Saint Joseph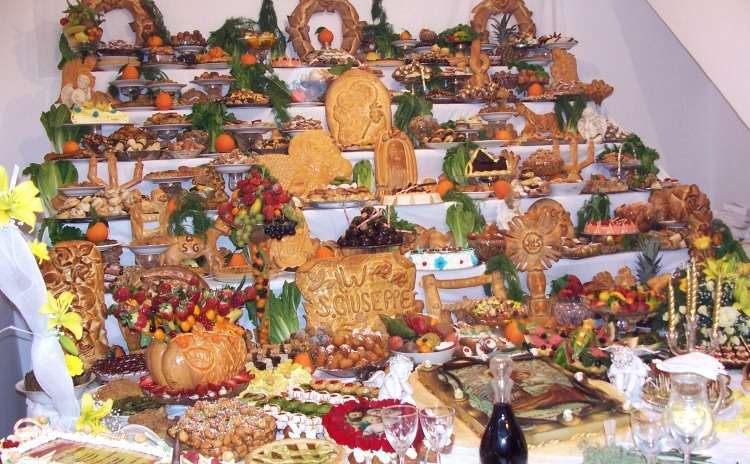 On March 19th, the Feast day of Saint Joseph, takes place in Valguarnera Caropepe, a village in inland Sicily, 21 km from Enna.
The Feast day of Saint Joseph celebration usually starts nine days before with the Novena, a devotional praying to Saint Joseph where devotees address him in prayers.
On the feast day huge tables with steps are arranged by families and friends in front of Saint Joseph's Church, adorned with local and traditional food in thanksgiving.
Among the local dishes, there are the "pagnuccata", a Sicilian dessert covered in honey,  the cannoli with ricotta and cream filling, cassata, turrón, and fried vegetables.
Bread has a very important role on the table which bakers shape in different forms such as angels and tools of woodworkers because of Joseph's work.
After the Holy Mass,  the dinner ("a zena" in Sicilian dialect) is celebrated in the sacristy.
The Holy Family, composed of three inhabitants playing the Madonna, Saint Joseph and Jesus Christ, is the first to start to eat. Then, families and devotees are invited to enjoy the meal in the name of Charity. The dishes put on the highest step are kept intact and offered to the Saints.
On the tables, there are also the m'brucali, specific offerings for the saints like decorated candles and wheat bags that during the afternoon are brought by bakers on foot or horseriding. The parade is accompanied by the marching band playing the traditional march "Chichirichi".
After the bakers' parade, takes place the procession where inhabitants carry the statue of Saint Joseph along the streets to Saint Joseph's Church.
(photos from the official Facebook page)
More Information >>>