Boboli Gardens – Florence
One of the greatest model of Italian garden style behind Pitti Palace.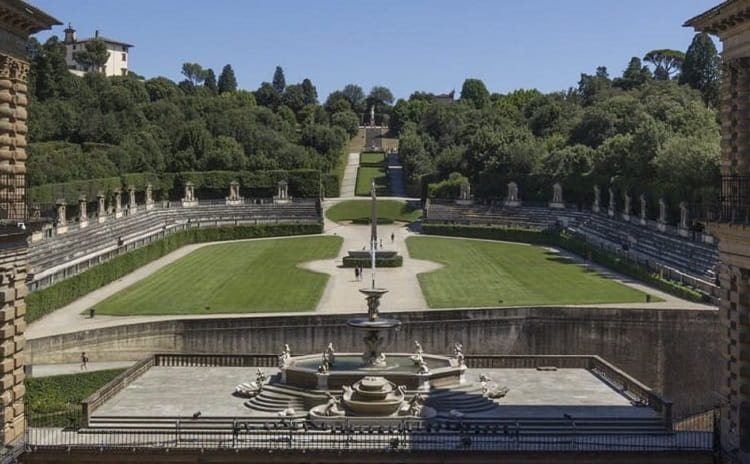 Boboli Gardens are located in Florence and represent a green area of ​​about 45,000 square meters on Boboli hillside behind Pitti Palace.
The works started in 1549 by the Medici family and then the garden has been enlarged by the Lorraine and Savoy families,
Boboli Gardens are a true open-air museum. It has 4 entrances and is divided geometrically by trees, hedges, rare plants, and flowerbeds arranged in a regular and symmetrical positioning, representing one of the greatest examples of Italian garden style.
Walking along the central "street", called the Viottolone, visitors encounter paths covered with gravel that lead to ponds, statues, fountains, nymphaeums, temples and caves. At the end of the Viottolone there is a large elliptical basin with a central islet populated by statues of fantastic and mythological figures with the statue of The Ocean by Giambologna in the center.
Among the most significant grottos of the Boboli Gardens:
– the Grotto of Madama, realized between 1553 and 1555, recreates natural environments populated by mysterious stone beings and animals.
– Boboli Great Grotto, also known as Buontalenti Grotto, was built with limestone concrete stalactites, shells and terracotta reliefs, with water running down the walls providing liveliness and colour.
The Amphitheater is located on the rear side of Palazzo Pitti and was built on the spot where Boboli hill had been excavated to collect the sandstone used to build the palace. The amphitheater was initially conceived as garden architecture divided by evergreen groves, but was later enriched with steps, aedicules with ancient-style marble statues and terracotta urns.
One of great historical value is the Egyptian obelisk which dates back to 1500 BC. which is located in the center of the amphitheater, It is the only obelisk found in Tuscany and one of the oldest monuments in the region.
In the second half of the 1700s, two major architectural complexes were built: the Kaffeehaus and the Lemon House.
The Kaffeehaus is located in a terraced area and is an eighteenth-century pavilion of Rococo architecture covered by a windowed dome.
The Lemon House is obtained from the transformation of an old factory of mosaics, sponges and statues. Medici's family already used it in 1500 for exotic plants and citrus trees, and it already preserves several species.
From Boboli Gardens it is possible to access the Museum of Costume and Fashion located in the Palazzina della Meridiana next to the southern wing of Pitti Palace
USEFUL INFORMATION
For information on opening hours and tickets, please visit the official website>>>
Entrance with a fee
Photos from Wikipedia
By I, Sailko, CC BY 2.5,
By I, Sailko, CC BY 2.5,
More Information >>>