The Explosion of the Cart – Florence
April 9th, 2023. From 1622, on Easter Sunday, the procession and the Explosion of the Cart.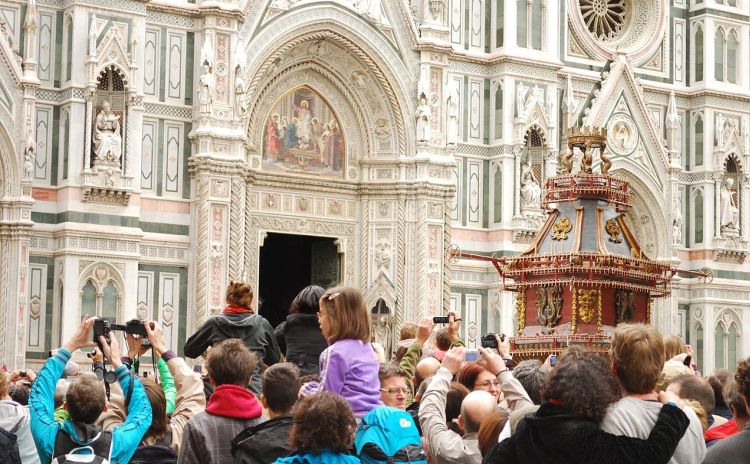 On Easter Sunday (April 9th, 2023) in Florence is taking place the "Explosion of the Cart" (Scoppio del Carro), a folkloristic and religious event that occurs every year since 1622, when the first cart decorated called "Brindellone" was realized.
The cart carries a 2-3 floors tower structure and it's towed by 2 oxen wearing a garland that walks through the city and finishes the path in Piazza del Duomo.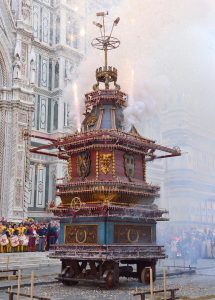 The origin of the Explosion of the Cart feast derives from history and legend. According to tradition a young boy from Florence called Pazzino, of the noble family de' Pazzi, left the town and joined Goffredo di Buglione for the First Crusade of the Saint War. He was the first that climbed the wall of Jerusalem in 1099 to raise the Christian flag.
As a prize he received from Goffredo di Buglione three flints from the Sacred Sepulchre, which are today preserved in the Church of the Saint Apostles. 
The ceremony of the "Explosion of the Cart" starts in the morning when a priest lights on the Easter candle by rubbing the 3 flints. With the candle light he burns the coal in a container on the cart. At this point the procession begins and goes through the streets of the center and ends at the archbishop's palace in front of Santa Maria del Fiore, Florence Cathedral. The archbishop turns on from the cathedral altar a rocket shaped like a dove that, with a rope mechanism, travels along the central nave of the church and reaches the Cart outside, making explode all the firecrackers and the fireworks on the cart. After having exploded the fireworks, the little "dove" must return in the central nave. If it doesn't occur, it's a bad prediction.
During the procession, the Cart goes along with percussionists, wavers wearing historical customs, the delegates of the city's institution and clergy.
source photo: tourism municipality website

ARE YOU INTERESTED IN EASTER RITUALS?
See further Easter and traditional religious events in Italy>>>
More Information >>>