Historical Football Game – Florence
11-24 June 2022. Historical football game between Florence's 4 districts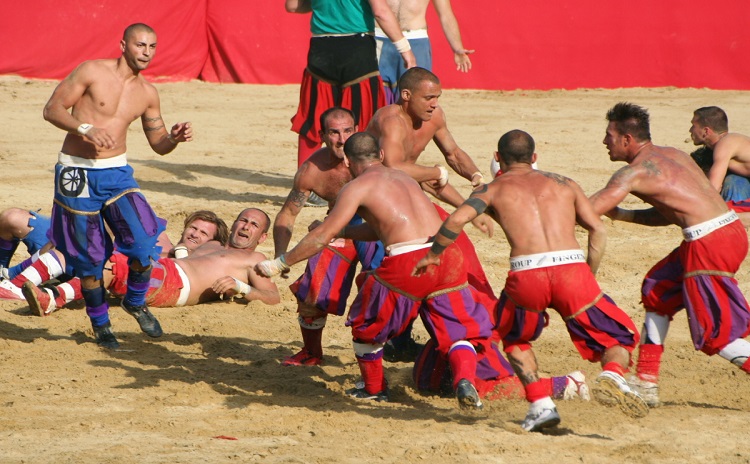 The Historical Football Game in Florence, the most energetic historic competition in Florence. is traditionally disputed in June. On June 11th and 12th 2022 should be held the two semifinals and the final game takes place on June 24th 2022, the day when the patron saint, Saint Giovanni Battista, is celebrated.
The teams of the 4 historical districts of Florence challenge one another in an energetic competition to obtain and to win the desired award, the famous type of cow called Chianina!
The historical football game as it is played today was revived in 1930, on the occasion of the 400th anniversary of Florence's siege, when the tournament was organized between the city's districts: Santa Croce (blue), Santo Spirito (white), Santa Maria Novella (red) and San Giovanni (green).
Since then the Florence Football Historic Game became the most important historical re-enactment in Florence.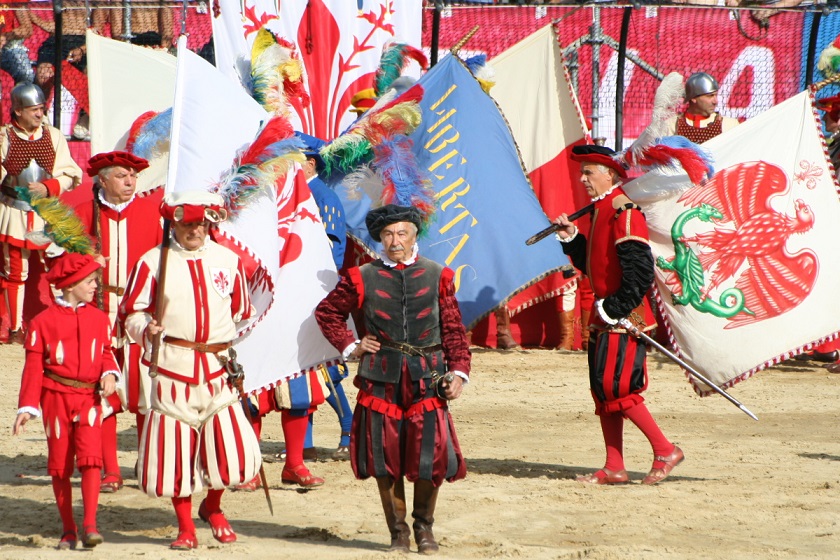 The players wear customs of XVI century, to recall the historical game, played on February 17th, 1530, during the siege of the city by the imperial troops of Carlo V.
As a disregard towards the invaders, the young inhabitants of Florence wore "livrea" customs (traditional medieval customs) and started to play football to be noticed by the enemies.
That's why the Calcio Storico Fiorentino is also called "football in livrea" or "football in costume".
Considered as the precursor of the modern football game, Florence's Football involves 27 athletes per team. Almost every means is licit to win the competition bringing the ball to the end of the field and dropping it off the net to score a goal called "caccia"
The 16th century is also present in the sumptuous costumes of the Historical Parade of Florence's Republic, composed by more than 500 reenactors, that from Santa Maria Novella Square go through the central streets to reach Santa Croce Square. 
INFORMATION
Municipality of Florence
Tel. +39 055 055 or send an e-mail>>>
See also the Facebook page of the event>>

AND AFTER THE MATCH?
See other events and places to visit in Tuscany>>>
And why not taste the traditional food of Tuscany>>> and its excellent wines>>>
More Information >>>