Mercato nel Campo – Siena
4-5 December 2021. 150 stalls, reminiscent of the "Big Market" of the XIV century.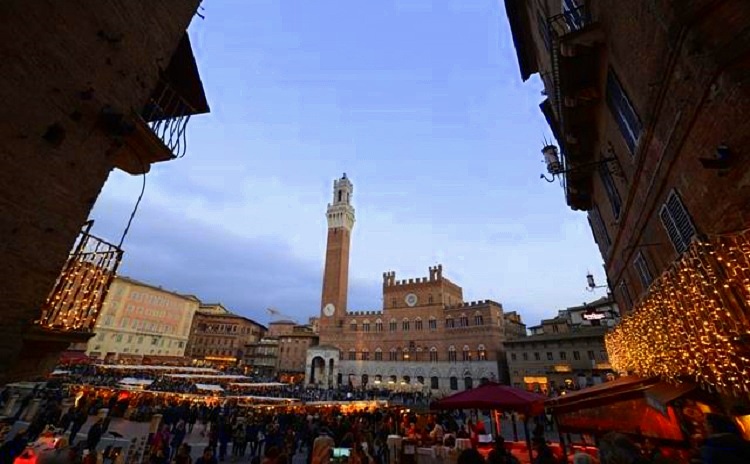 The traditional "Mercato nel Campo" in Siena, 2015 Italian Capital of Culture, is a charming market that displays the best culinary and craft products in a sort of reenactment of Medieval markets.
Piazza del Campo hosts the so-called "Mercato Grande" (Big Market) on December 4th and 5th, 2021, becoming, just as it was in the 14th century, the center of trade and commerce, and social interactions.
The Big Market, which took place once a week in the XIV century, had hundreds of stalls, but the real star was the "treccola", who sold vegetables, legumes, milk, eggs and cheese.
"Carnaioli" sold meat, "pizzicatoli" salami and spices, and peasants their harvest and products from their market gardens. And then artisans, tanners, cobblers, fabric sellers, barrel makers…
Today, pastry chefs, wine, honey, and saffron makers, goldsmiths, and bookbinders join the traditional sellers, arranged in the shell-shaped square by product type, according to the rules followed in the Middle Ages.
The over 150 stalls showcase and offer the best local and national culinary products and crafts: salumi, fresh pasta, cheeses, oil, honey, saffron, typical desserts such as "ricciarelli", "cavallucci" and chocolate "panforte", almonds, aromatic herbs, seasonal fruits and vegetables; plus art and antiquities, books and illustrations on local art and history, wrought-iron items, hand-painted ceramics, and Christmas decorations.
The two-day fair also offers guided tours, free tastings, activities for children, and live shows.
Palazzo Pubblico's Courtyard, located right under the famous Torre del Mangia, presents the art of Gastronomy, with wine tastings and musical and artistic performances.
ATTENTION 2021, PLEASE CHECK ON THE WEBSITE OR ON THE FACEBOOK PAGE ANY CHANGE OF DATES OR PROGRAM
FROM AUGUST 6TH IT IS MANDATORY TO HAVE THE GREEN PASS OR EQUIVALENT CERTIFICATION
(Cover photo: event's official Facebook page)
AND AFTER THE MARKET?
What else happens, what can you see and do in Tuscany? Follow the link>>>
And do you know the traditional food of Tuscany?>>>
And its fine wines? Discover them>>>
More Information >>>