Frantoiana Soup Fair – Capannori
All 5 July weekends in honor of the traditional soup of Lucca.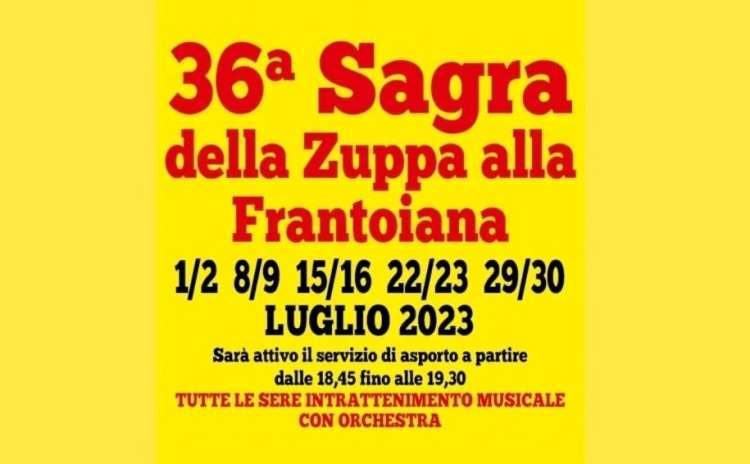 All the July 2023 weekends, in Segromigno in Piano, a hamlet of Capannori, in the province of Lucca, takes place the 36th edition of the Frantoiana Soup Fair, one of the traditional recipes of the Lucca cuisine.
The Frantoiana Soup is an exquisite soup typical of Tuscany, prepared with simple and healthy ingredients: beans, potatoes, black cabbage and freshly pressed extra virgin olive oil for the dressing.
It is a nourishing and nutritious first m, excellent at lunch or dinner, with toasted homemade bread or croutons. See the recipe at the bottom of the article!
The feast is also known as the Yellow-Red Soup festival and visitors can also taste many other tasty local specialties.
The takeaway is also possible from 6.45 pm to 7.30pm, before the food stands open.
For any further information, call the organizers at +39 0583 928222 or see the facebook page>>>

THE FRANTOIANA SOUP
The Frantoiana soup is a dish that represents biodiversity par excellence. It is made with what is there, there is no "single" recipe, but all those who grew up with this soup know how to recognize one, despite the different nuances that each cook uses.
It represents the creativity of tradition where everything is allowed: a small piece of lard, croutons, pest of herbs … in short, the happy combination of seasonal products (carrots, cabbage, beets, potatoes, onions) or wild herbs from the garden (cicerbite, dandelion, pimpinella), secret ingredients and a precious product such as extra virgin olive oil from the Tuscan hills.
This soup is so famous and beloved in the Lucca area that the Soup Challenge takes place every year, organized every winter by the Slow Food Lucca Compitese Orti Lucchesi Convivium. The Challenge of the Soup (in which Capannori also participates) is an exciting semi-serious competition between cities, restaurateurs and clubs with direct eliminations and a grand final that decrees the winner and the orientation of the flavor of the soup of the year.
And here is the basic recipe of the soup:
Ingredients
– 250 g pre-cooked cannellini beans;
– 250 g pre-cooked pinto beans;
– 100 g smoked bacon;
– 100 g cherry tomatoes;
– 1 bunch of black cabbage;
– 1 bunch of chard;
– 2 carrots;
– 2 potatoes;
– 1 onion;
– 1celery stick;
– 1 garlic clove;
– 1 rosemary sprig;
– freshly pressed extra virgin olive oil;
– salt and black pepper.
Directions
1 – Finely chop onion, celery, garlic, and rosemary, and sauté them in an earthenware saucepan with a drizzle of extra virgin olive oil. As soon as the vegetables sweat down, add the diced bacon and let it brown.
2 – Add all the chopped vegetables, including the sliced ​​cherry tomatoes, mix and cook over medium heat for about ten minutes.
3 – Puree (or blend) 1/3 of the cooked beans and add them to the soup. Add water if necessary. Cover and cook over low heat for about 45 minutes, so that the potatoes are well cooked
4 – When cooked, add the remaining whole beans, mix and let the olive harvest soup simmer for another 5/10 minutes. In the end, season with a drizzle of raw extra virgin olive oil and serve hot
Are you in Tuscany?
See other events or places to visit in Tuscany>>>
More Information >>>