Pistoia Underground – Pistoia
Underground path of 650 meters showing the urban evolution of the city over the centuries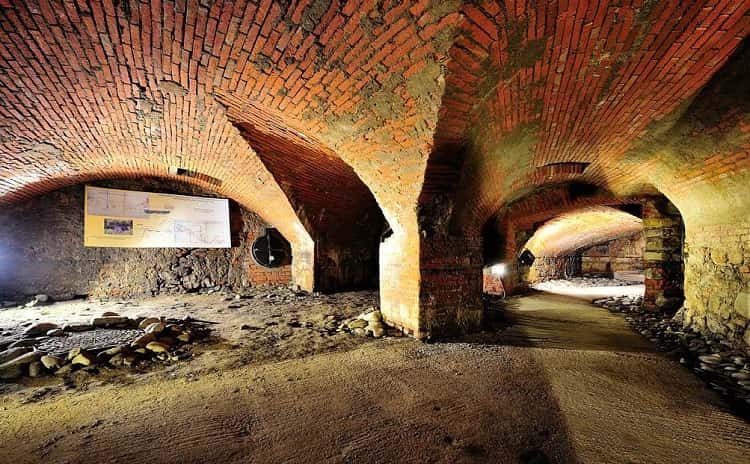 Pistoia underground is an underground path 650 meters long that winds under the city of Pistoia and is the longest underground path in Tuscany.
The sites crossing with Pistoia Underground have only recently been brought to light after an important environmental reclamation, and offer an unprecedented vision of the city and its urban evolution over the centuries with over 800 years of building stratifications.
The path, a real underground museum, develops under the north-east part of the city and consists of the ancient bed of Brana stream, modified and adapted in the early twelfth century to expand the second city walls. and then reduced to an artificial canal crossing a large part of the historic center of Pistoia.
The underground site of Pistoia Underground shows the historical and architectural phases of the construction of Ceppo Hospital (Ospedale del Ceppo) and the expansion of the city, which over time has incorporated bridges, towers and city walls.
The museum itinerary also documents the presence of various production activities dependent on the water supply such as mills, ironworks and wash houses.
Access to Pistoia Underground is allowed only with a guided tour lasting about one hour.
The visit starts from an intermediate access with respect to the ancient course of the stream, and upon entering, the origin of the site from the hydrographic point of view in relation to the development phases of the city is explained to visitors.
Many Hospitales can be identified along the external health belt of Pistoia because with the advent of San Jacopo's relic, the mass phenomenon commonly known as Iter Compostellanun developed in the city.
Along the way visitors can see elements of Ceppo hospital founded "over Brana" in 1343, and the so-called butti (openings on the vaults) where can be found hospital ceramics used to administer medicines.
Another fundamental step is the visit of the mill and oil mill under the homonymous road, The Mill, already there at the end of the 13th century, had been merged with the hospital and awas used to produce the chestnut flour with which the "pappine" were made, a curative mush for the sick served in special dishes found in the basement, called also pappina.
Also visible are the ancient "municipal" walls, which in large sections have become the foundations of Ceppo Hospital, the little bridge of Sant'Jacopo and Lorenzo hospital which can be observed in the hypogeum in San Lorenzo Square aligned with the Hospitales of the same name, the wash houses of San Lorenzo and immediately after the ironworks, built by the Beccaccini family, whose power hammer worked thanks to a Vitruvian wheel. Also the road was named after the hammer standing there.
USEFUL INFORMATION
To know the guided tours timetable check the website>>>
Entrance with a fee
Reservations is recommended by calling +39 0573 368023 or by sending an email>>>
It is recommended to wear a safety mask and to keep an interpersonal distance of at least 1 meter.
photos from the Facebook page and official website of the museum
________
After a journey underground, what could be better than tasting some typical food from Tuscany?>>>
More Information >>>