Truffle fairs and festivals in Tuscany
From late August to late November truffle fairs and festivals in Tuscany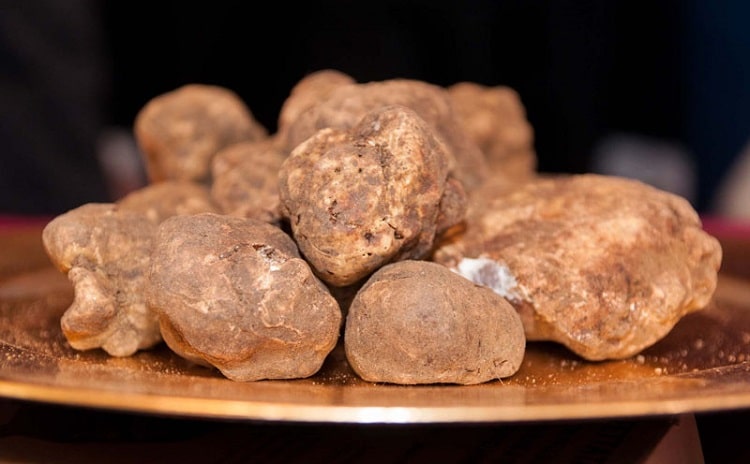 Which are the Italian regions where the truffles grow spontaneously? All! None excluded. And in all 20 regions, the truffle food tradition is very important.
Also in Tuscany, of course. Thus it is possible to attend numerous fairs and festivals that make the truffle known to a large public of truffle lovers.
During the truffles' events, truffles are sold, tasted and talked about.
The truffle varieties in Tuscany
In Tuscany, there are both the Top White Truffle and the Top Black Truffle. And then the Bianchetto or Marzuolo and the Scorzone
If someone wants to try the experience (and the emotion) of the wild truffle hunt, see where you can find them >>> Good luck!

The truffle fairs in Tuscany
Here below you can find a calendar of truffle fairs and festivals in Tuscany. There are many from late August to late November. One also in March,
Some events may have been postponed or canceled due to organizational difficulties in this anomalous year.
Thus we kindly recommend always checking on the official website if anything has changed. Some information can be on the Municipality website.
TRUFFLE FESTIVAL – Castell'Azzara (GR)
19-20 August 2022 – see the details>>>
TRUFFLE FESTIVAL – Fiesole (FI)
1-25 September 2022 – see the details>>>
FESTIVAL OF WHITE TRUFFLE AND PORCINO MUSHROOM – La Serra (PI)
23-25 September 2022 – see the details>>>
WHITE TRUFFLE MARKET FAIR – Corazzano (FI)
1-2 October 2022 – see the details>>>
WHITE TRUFFLE AND MUSHROOM FESTIVAL – Balconevisi (PI)
15-16 October 2022 – see the details>>>
TARTUFIERA (TRUFFLE FAIR)- Prato (PO)
22-23 October 2022 – see the details>>>
TRUFFLE FESTIVAL OF THE SANMINIATESI HILLS – Ponte a Egola (PI)
29-30 October 2022 – see the details>>>
FESTIVAL OF PINOCCHIO TRUFFLE – San Miniato Basso (PI)
5-6 November 2022 – see the details>>>
EXHIBITION OF THE WHITE TRUFFLE OF CRETE SENESI – SAN GIOVANNI D'ASSO (SI)
12-13 and 19-20 November 2022 – see the details>>>
WHITE TRUFFLE MARKET EXHIBITION San Miniato (PI)
12-13, 19-20 and 26-27 November 2022 – see the details>>>
MARZUOLO TRUFFLE FESTIVAL OF THE CRETE SENESI – San Giovanni d'Asso (SI)
March 2022 – TO BE CONFIRMED – see the details>>>

Go to the article to better know the Tuscany varieties of truffle>>>
Cover photo from the website of San Miniato white truffle market exhibition