The Ceri Race – Gubbio
On May 15th, three 4 meters high "Ceri" are racing in the streets of Gubbio.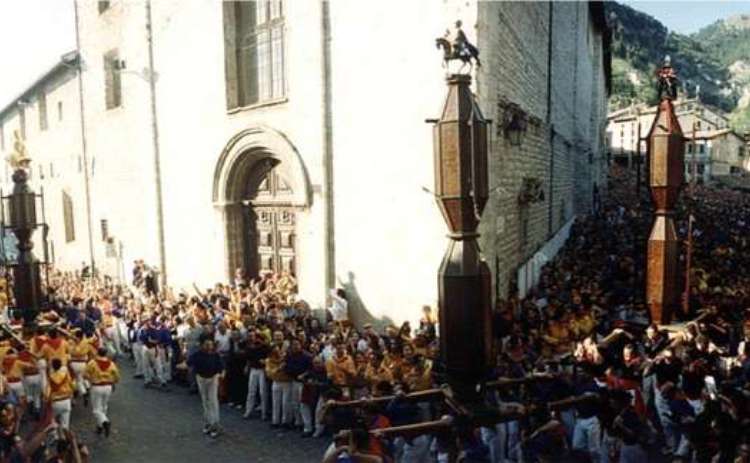 The Ceri Race is a celebration that takes place every year in Gubbio, in the province of Perugia, on May 15th. It's celebrated the day before the feast of the protector Saint Ubaldo. Its origin dates back to 1160!
The Ceri are 3 wooden structures which are 4 meters high and weigh around 4 quintals; and on the top of them there are the statues of the Saints Ubaldo, George and Anthony.
During the Ceri race are carried by the "Ceraioli" within a race through the streets of the town to the patron saint's cathedral, which is located at the top of Mount Ingino.
The festival of the Ceri Race starts at 11.30 with the Alzata dei Ceri (Elevation of the Ceri), one of the most exciting moments of the event. When the bell tower rings, the three top leaders of every cero, called Capodieci, push fast forward and the ceraioli rise vertically the Ceri. At this point the crowd opens a path where the Ceri pass through with a race by doing 3 turns.
In the afternoon, the famous Ceri Race starts through the main streets of Gubbio.
The Ceri, that swing in a scary way, are preceded by the Captain, the Standard bearer, the Trumpet player on horseback.
The path towards the Cathedral is far around 4 km and 300 mts.
Once the race is done, the celebration starts in the whole town.
Steve McCurry, the great American photographer who realized a photoshoot in Umbria region, said about the Race of the Ceri: "I thought to see only 3 saints and I saw three Ceri. I thought to see a city and I saw a population. But especially, I thought to see a feast and I saw life".
The Ceri Race in Gubbio is so important that in 1973 the 3 stylized Ceri became the emblem of the Umbria Region.
For further info please check the official website>>>
Photo source: Wikipedia and event's website 

What can you eat in Umbria? Click here >>>

More Information >>>