The Crossbow Palio – Gubbio
May 26th 2024. An athletic contest of crossbowmen with medieval costumes.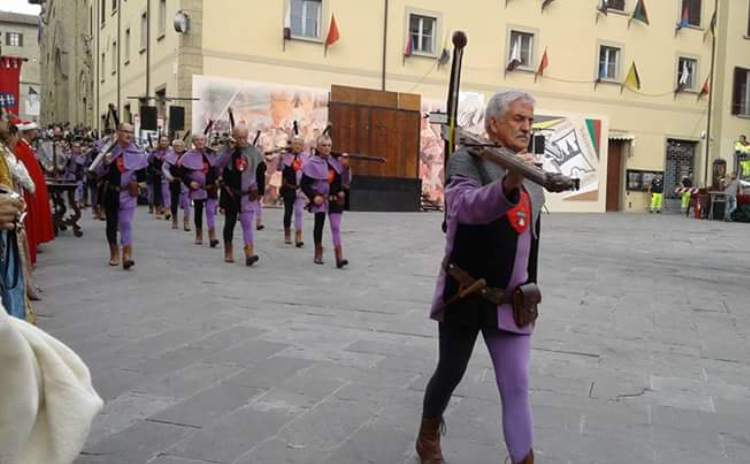 On May 26th, 2024 – the last Sunday of May –  in Gubbio (Umbria) takes pace the Crossbow Palio, a traditional competition that dates back to the Middle Ages, when crossbowmen had the task to protect the territory against possible invaders,
The ability to handle the crossbow, an instrument of such importance to protect the boundaries gave birth to "athletic" competition and challenges between the knights of that time
It seems that Gubbio has been a very particular and famous town for this discipline: an old document dated 1461 demonstrates it as in that year Battista Sforza went to assist the Palio of the crossbow in Gubbio.
Around 300 years later, on June 27th, 1729, the first "Charter for the good regulation of the crossbow's game" was drafted.
The Palio of the Crossbow nowadays represents a historical remembrance of the athletic competition and the Crossbowmen wear traditional customs.
The challenge consists of hitting the corniolo or tasso (that is the target) with an arrow threw with a crossbow at a distance of 36 m.
The organizer is the Crossbowmen Society which has its offices in the Bargello Palace in Gubbio where there is a permanent exhibition of a collection of historical crossbows, the awards received by the crossbowmen of Gubbio, historical customs, emblems and old weapons.
The Crossbow Gubbio Palio is taking place the last Sunday of May, but the second round is taking place on  the second Sunday of September ending with a crossbow contest in Sansepolcro with the Sansepolcro Palio>>>.
To be updated go to the facebook page>>>
——
ARE YOU IN GUBBIO?
See further events and places to visit in Umbria>>>
And enjoy the traditional food of Umbria>>> and its wines>>>
Photos: Società dei Balestrieri di Gubbio

More Information >>>