The Ring Race – Narni
April 24th to May 14th, 2023. Historical re-enactment and a medieval horse race.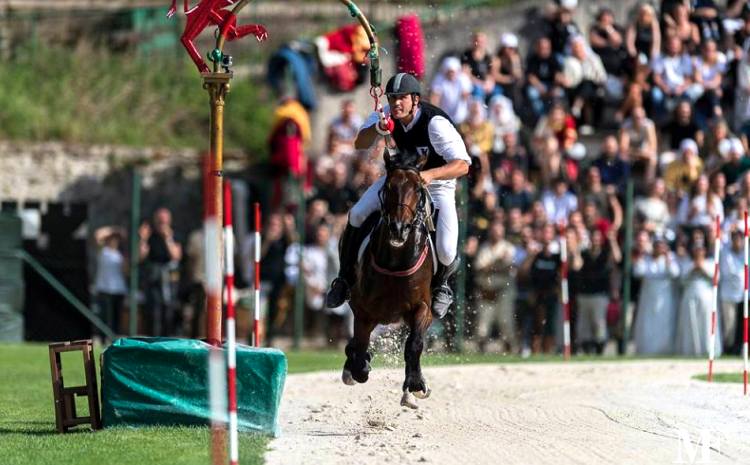 From April 24th to May 14th, 2023, in Narni, in the province of Terni, they take place the ceremonies which culminate on 13 May with the Great Historical Parade and on 14 May with the Ring Race, which this year reached its 55th edition.
Today's version of the Ring Race dates back to 1969 and the event is characterized by several events that culminate with the Grand Historical Parade in costume.
As in the Middle Age,  Narni is still divided into three Terzieri (Mezule, Fraporta, Santa Maria), a gathering point for the inhabitants. The knight winning the race brings honor to his Terziere.
The event also includes exhibitions, shows, medieval market, performances by historical groups, games for kids and of course local food and wine tastings.
Tickets are required for the Ring Race on May 14th. See the program>>>
To be updated see the website>>> and the facebook page>>>

The origins of Ring Race
In 1371, the city established the rites and games of the Ring Race taking place every May 3rd in honor of the first bishop of Narni, Santo Giovenale.
The evening before it was usually held a huge parade along the streets of the town accompanied by music and religious choirs right until the Cathedral. On May 3, the city celebrated the Palio race, a speed competition, and the Ring Race.
In the Ring Race, reserved for the Narnese riders, the competitors had to line up at the corner of Saint Salvatore church in Piazza dei Priori and then try to stick the target with their beam. Those who succeeded were rewarded with 100 Cortonese money. The starting lineup depended on the knights belonging to the three Terzieri, the districts in which the city was subdivided.
In the sixteenth century, the quintana, the fight, the comedies, the fight between the buffalo and the bull were added to the two traditional games.
(credits photo: event's website)
——

ARE YOU GOING TO NARNI?
See what else you can do or visit in Umbria>>>
And discover the traditional food>>> and the excellent wines of the region>>>
More Information >>>