Arrancabirra – Courmayeur
October. A goliardic race in Aosta Valley at the foot of Mont Blanc. Beer, costumes.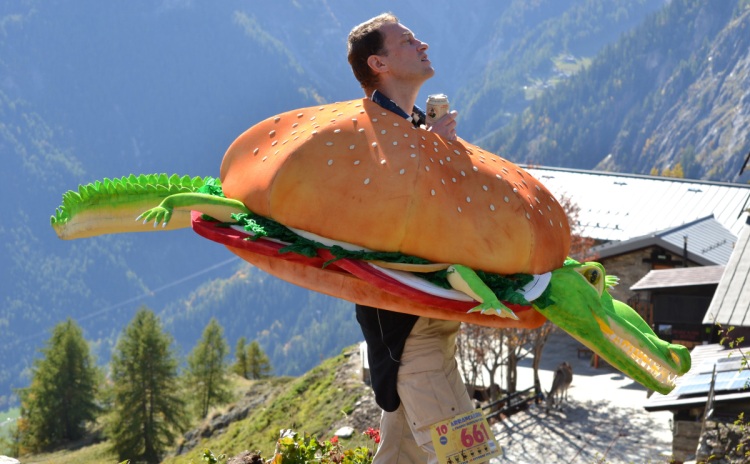 TO BE CONFIRMED
Usually in October, Arrancabirra, the goliardic race that takes place every year in Courmayeur, at the foot of the southern side of Mont Blanc, should returns in 2022 for its 15th edition.
The panoramic route starts from the town center (Piazza Brocherel) at 10 am, and continues along the wide ridge that separates Val Ferret from Val Sapin, giving runners an extraordinary view of the Mont Blanc Massif.
The trail, which has a difference in altitude of 1,400 meters (over 4593 ft), is 18 km long and reaches Rifugio Bertone (2,000 m/6562 ft above sea level!). In case of adverse weather conditions, however, the race is only 13 km long, and it reaches the La Suche (1810 m/5939 ft) and Tirecorne (1950 m/6398 ft) lodges instead.
The distinctive trait of Arrancabirra, as its name (birra = beer) suggests, is that runners can drink beer cans (1 per refreshment station) that entitle them to time bonuses. Winners usually drink 6!
Participants also have the opportunity of running in extravagant costumes centered around a particular theme that changes every year. 
Depending on the length of the race, there are 4 or 6 "refueling" stations where participants can pick up their beer cans. Gluten-free beer is available on request.
Participants can also run with their dogs.
Prizes, awarded at Bollino Park in Courmayeur from 4:30 pm, will go to:
– the three best placed men and women;
– the winner of the race with dogs;
– the best and funniest themed costume.
A special prize is awarded to the largest Sports Association (counting more than 10 members).
Rules and weather/trails information >>>
(photos: event's official website)
More Information >>>