Ecomuseum of Hemp – Champorcher
TEMPORARILY CLOSED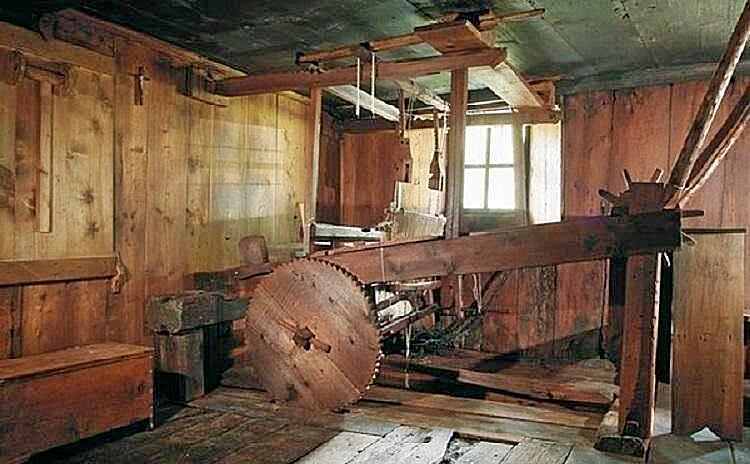 TEMPORARILY CLOSED
Discovering the tradition of hemp weaving of Aosta Valley in an ancient rural house
The Ecomuseum of Hemp, located in Chardonney, in Champorcher, is housed in the Maison de Thomas, an old four-storey eighteenth-century rural house which is a real example of traditional Aosta Valley architecture.
In Champorcher valley, hemp weaving is a very ancient art.
Until the mid-1900s, all families had a custom-built loom in the stable. Traditionally, the loom is an essential part of the stable which guaranteed the right humidity to facilitate hand spinning.
After a period of neglect, this particular process was taken over by a women's cooperative, "Lou Dzeut", founded in 1989, and was modernized with the semi-automatic looms.
The museum proposes a journey through the ancient spaces of the rural house from the ground floor: the cellar (crotta), the stable (boi) and the rustic kitchen (meison) with the hearth, the nearby stable, and the stalls for the cows. Visitors can live the atmosphere of the veillà and the tradition of coexistence between humans and animals.
Inside, visitors can also admire an old wooden manual loom, restored to be fully functional and usable for demonstration purposes, and a warper.
In the house-museum a sound system has also been installed which transmits the sounds of cows in the stable, of women praying and of the loom at work, making the structure alive and emotionally involving the visitors.
The Hemp Ecomuseum hosts a permanent exhibition on the processing of hemp which, along with wool, (spinning, weaving, etc.) has been part of the subsistence economy of Champorcher valley and the whole Alpine chain for centuries.
Since 2012 the museum has been managed by the Lou Dzeut Cooperative which, along with the city, promotes a restoration project to improve the whole structure of Thomas's house and also set up the first floor, in view of an extension of the museum and the creation of a section dedicated to traditional clothing. The recovery project also includes the restoration of the old water mill once used to macerate hemp.
USEFUL INFORMATION
Free entrance
For information on opening hours and how to visit, please contact Lou Dzeut Cooperative at +39 0125 37327 or send an email>>>
——–
To be traditional…
… what to eat and to drink in Aosta Valley?
Discover typical dishes and DOC wines, follow the link >>>
DO YOU WANT TO KNOW FURTHER INTERESTING MUSEUMS?
See a selection of Theme Museums throughout Italy>>>